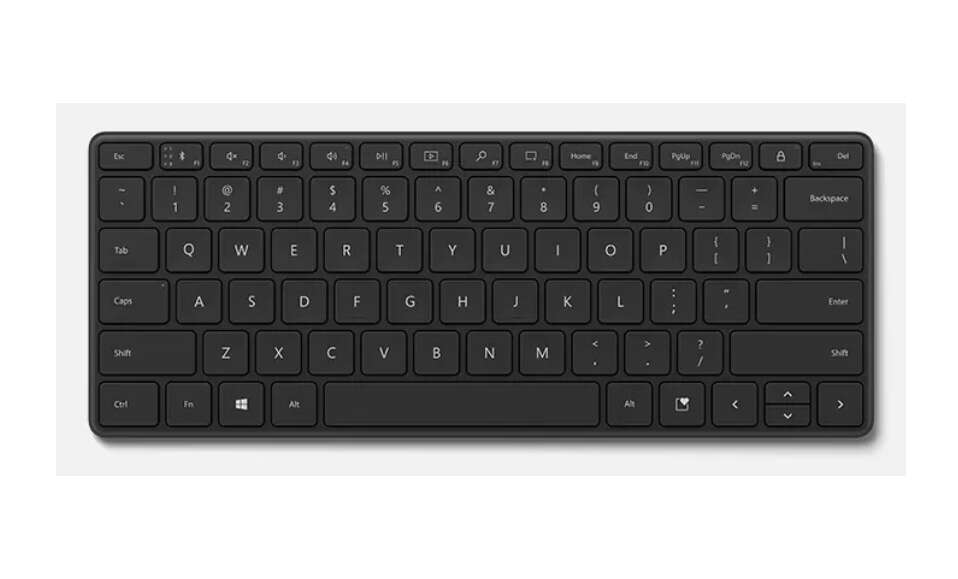 The Microsoft Designer Compact Keyboard could have been one of the best mini compact, lightweight, bluetooth keyboards. The form factor tells us that this is a keyboard on the go, like the Logitech's Keys To Go. So we compared both keyboards and several others of the same category and decided that the winner is Microsoft Designer Compact Keyboard.
The winner does not need to win in every specification, but just the most critical specification as mentioned in another article on keyboard selection, which are the "keys".
It is not a tenkeyless keyboard as some website mentioned, but is in fact slightly smaller than the next grade of 75% keyboard. It is not a 65% because the Functions key are still included, but the top 6 navigation keys are integrated into the Function Keys instead of standalone is true 75% keyboards.
Benefits

1) The size 284.07 x 110.77 x 9.05 mm (10.33 x 2.39 x 19.2 in) is one of the smallest in the same category of compact, thin, wireless keyboard.
The length and width is close to Targus Multi-Device BT Compact (285 × 117 x 21 mm), because Targus uses disposable AAA batteries instead of the CR2032 batteries.
If the designers use rechargeable Lithium batteries instead, then maybe the keyboard can have backlit lights as it would have more power.
2) The weight is very light at just 286grams (batteries included) as compared to Targus at 336 grams, and Alcatroz Xplorer 300BT at 302 gramms (batteries included)
3) Chiclet style keys with very short keypress
Tactile bump starts at 0mm, meaning that you will need to overcome the "bump" to press key down.
Pre-travel to actuation is about 1mm, meaning the keys actually need to press by 1mm for the key to be activated. This is even shorter than Logitech's MX Keys which is about 1.8mm, and mechnical keyboard is about 2mm.
Full keypress height is about 1.5mm, which is again shorter than MX Keys' 2mm total keypress height.
The keys for the Microsoft Designer Compact feels quite similar to the Logitech's MX key.
The reason why Logitech's Keys-To-Go was not selected in our review is because typing on the fabric keyboard is uncomfortable, as confirmed by other users on Youtube, etc. This is unlike the chiclet and scissors switch design which is much smoother and comfortable to type.
If Logitect Keys-To-Go Version 2 has a plastic design with chiclet keys and scissors switches, then it will be a stronger competitor against Microsoft's Designer Compact.
4) It is multi-device capable with indicator light, and it connects up to 3 devices with Bluetooth LE 5.0,
5) Stated battery life using 4 x CR2032 is 36 months is very impressive.
6) Dedicated Windows Emoji keys, which normally requires two button to be pressed to access, i.e. Windows and Period button.
7) Dedicated On/Off switch is located at the bottom. There is at least one designer who removed manual On/Off switch from their keyboard, i.e. Alcatroz Xplorer 300BT.
Drawback
1) There is no back light.
We noticed that most keyboards that uses standard disposable Alkaline batteries do not have back light.
CR2032 is a commonly available flat round Lithium battery, but would the battery life suffer significantly if back lights are included? Then the next Microsoft Designer Compact Keyboard Version 2 should use rechargeable Lithium battery and the keyboard should have back light.
Sad to say that all the mini compact keyboards that we reviewed, including Logitech's Keys to Go, Targus Compact, Xplorer BT300, have back lights.
2) There is no battery life indicator.
So, if the battery runs out in the middle of an important meeting, we have run to a store nearby to buy the batteries. If this happens while working late at night and the stores are closed, then good luck.
It is hard to imagine if anyone can remind themselves to keep 4x CR2032 batteries in their bag for 36 months (3 years). Nowadays, it is easier to use a charger as its available almost anywhere, conference room, meeting room, pantry, and maybe even the toilet!
3) The battery compartment is very hard to open.
Fortunately, we only need to open the cover once every 3 years, assuming the batteries last as long as claimed.
4) There is no protective pouch.
This is a compact, wireless keyboard designed with very small form factor, super lightweight and multi-device capabilities. Are we expected to use them at our work desk only? I bought this keyboard to go with my tablet when I travel around. A protective, Microsoft Designer Pouch will make the Designer Compact Keyboard more complete.
Maybe Microsoft can partner with Prada designers to come up with several bag design, and have Bill Gates' signature on the bag.
Below is a marketing video from Microsoft, showing a lady taking out bare Designer Compact keyboard and computer from her tote bag. In real life, we will buy protective sleeves, covers or pouches to protect our investment.
5) Last but not least, there is no Mac version.
There are many IPad users like me who would like to use Designer Compact. The keys are different, e.g. Command key for the Mac/IOS is the Windows key.
Conclusion
Even though there are quite a number of drawbacks, the Microsoft Designer Keyboard is very comfortable to type, and is compact and light enough to bring around every day.
Microsoft Designer Keyboard is a very useful companion for tablets. It can also be used as a desktop keyboard replacement for those who have a cramped table top.
We will look forward to Microsoft Designer Keyboard Version 2.0.