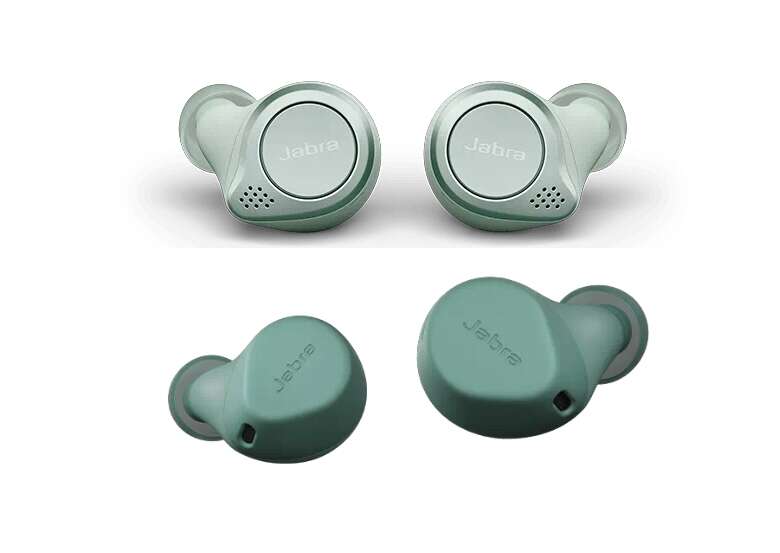 This article reviews the key differences between the Jabra Elite Active 75t sports earbuds and the upcoming Jabra Elite 7 Active based on known specs. By comparing the main differences, we can then decide if there are substantial gains by upgrading the earbuds.
The first difference we noticed is that the naming configuration has been changed by placing the word "Active" at the end (as in Jabra Elite 7 Active).
We also noticed the pressure vent and missing button on the new Jabra Elite 7 Active earbuds. These observations will be covered in our review below.
Compare Known Specifications
The table below highlights the main differences in bold blue color.
1. Change from buttons to touch control.
It appears that the Elite 7 Active does not have a button, which leads us to believe that it is using touch control. The existing buttons on the Elite Active 75t are easy to press, have short travel, and provide positive and satisfying tactile feedback.
This will be the first time Jabra is using the touch control on its Elite earbuds, and there will be further reviews on whether the interface is user-friendly.
2. New Jabra's Trademarked ShapeGrip coating.
When you're working up a sweat, you want to know your buds are going to stay firmly in place. That's why we've re-engineered our sports earbuds for the ultimate active fit with our unique Jabra ShakeGrip™ technology.
An important consideration for all sports earbuds is that they must be secure when attached to the ear, and must never fall out easily during a run or any sports activities.
Jabra sports earbuds never use earwings, except for the over-the-neck Jabra Elite Active 65e. Jabra focused on designing the best, anatomical shape earbuds that fit the ears of the majority, without the need for earwings. The assumption is that a good fitting will help to keep the earbud securely attached to prevent dropping out, and also provide passive noise cancellation (PNC) with a good seal.
In reality, there are feedbacks that the Elite Active 75t does not fit the ears of some users, even when they are sitting down and not moving at all.
In another related webpage for the Jabra Elite 7 Pro, the team claimed to have scanned 62,000 ears over 6 generations of design, to create the perfectly shaped bud. Despite all these efforts, we found that the data is not representative of the billions of people in the world. The final shape of those earbuds that was released, did not guarantee a perfect and secure fit for everyone.
The use of ShapeGrip coating seems promising, however, we doubt that they can be as good as the physical earwings. In fact, we have no idea why the designers never use the same earwings on the Jabra Elite Active 65e.
I ran more than a thousand kilometers, worn out a pair of Mizuno Prophecy 8 shoes, and the Jabra Elite Active 65e never drop out of my ears during the runs. It has one of the best earwings designed but never fully utilized in future designs.
3. Re-engineered 6mm drivers.
We've re-engineered the 6mm custom speakers, to give a rich, powerful music experience, with outstanding personalization options in the Jabra Sound+ app.
Based on the above, it is safe to imply that the 6mm drivers (speaker) in Jabra Elite 7 Active, are different and improved over the 6mm drivers used in Jabra Elite Active 75t.
4. Improved battery life by 63%.
The new Jabra Elite 7 Active earbuds have an improved battery life by 63% when compared to the Elite Active 65t. The battery life is also better than Sony WF-1000XM4, Bose QuietComfort 45, and Apple Airpod Pro.
The total battery life including the charging case is also increased by 46% from 24h to 35h.
Table: Confirmed list of differences.
Tech Specs
Jabra Elite
Active 75t
Jabra Elite
7 Active
Release date
Feb 2020
Oct 2021
Weight (each earbud)
5.5g
5.4g
Earbuds IP Rating
IP57
IP57
Control Type
Button
Touch
Driver
6mm
6mm


(Re-engineered)

Pressure Relief/Vent
Yes
Yes
Ear Wings for Fitting
No
No.
ShakeGrip coating.
Bluetooth Version
5.0
5.2
Proximity/Optical/Ear Sensor
Yes
Yes
Music Time (ANC On)
5.5h
9h
Total Time + Charge Case
(ANC On)
24h
35h
Fast Charge For 1-hour usage
15mins
5mins
Wishlist for Jabra Elite 7 Active
The final specifications of Jabra Elite 7 Active are not released yet, but we are hoping that it includes some of the design features below that are found in other high-end earbuds. Nevertheless, we consider this as a "wishlist" because they were not mentioned in the product announcement. But we could also be wrong when the final specs are released publicly.
At this time, the design should already be finalized and production should be ongoing in preparation for the 1st October 2021 launch.
1. ANC FF and FB, and 3 microphones per earbud.
The existing Jabra Elite Active 75t has Feedforward (FF) ANC only.
The high-end earbuds have both Feedforward (FF) and Feedback (FB) ANC by using 2 dedicated ANC mics per earbud, and the 3rd mic is for capturing clear voices. This means that each earbud will require 3 mics (or 6 mics per set of earbuds).
Feedforward(FF) ANC is better at reducing higher-frequency noise at up to 1-2 kHz. It is based on the mic picking up the noise earlier and generating the "anti-noise" to the user.
Feedback(FB) ANC works on a broader range of frequencies except for 1-2kHz. It is based on the mic picking up what the user hears.
2. Bone Conduction Sensor
The bone conduction sensor transmits the voice using the vibrations through the jaw bone, and so it eliminates external noise and wind to achieve the best voice clarity. Jabra Elite 7 Pro has the same feature but it is called VPU (Voice Pick Up) sensor instead of a "bone conduction sensor".
The Sony WF-1000XM4 and Logitech Zone True Wireless earbuds also have a bone conduction sensor.
3. Use Either Earbuds Independently.
One of the biggest drawbacks of current Jabra earbuds is that you always need to wear the right side or both sides for them to work. Most of the more recent earbuds in the market have been designed to allow users to wear either earbud.
Wishlist

for Elite 7 Active
Jabra Elite
Active 75t
Jabra Elite
7 Active
Active Noise Cancellation (ANC)
ANC: FF only
PNC
ANC: FF & FB?
PNC
Mems Microphone per earbud
2
3?
Bone Conduction Sensor (VPU)
No
Yes?
Use either earbud independently
Right side only
Yes?
As mentioned, the above specifications are a wishlist because the Jabra Elite 7 Active is unlikely to these features.