Audio
Compare JBL Reflect Flow PRO and Sony WF-SP800N Sports Earbuds
In this review, we review and discuss the differences JBL Reflect Flow Pro or the Sony WF-SP800N sports earbuds.
The primary criteria for sports earbuds are the IP rating and the secure fitting, preferably using ear wings. If the earbud is not protected against water or sweat, or is easy to fall out during sports activity, then it does not qualify to be a sports earbud.
Read also: Sweat Resistant Sports Sunglasses Designed for Running
The general trend for earbud design is getting smaller in size, with the emphasis that they do not protrude too much from the ears when worn. The weight is also getting lighter while the battery life has improved to as high as 8 hours. On the other hand, charging time is dropping due to new development in charging technology.
We compared all the specifications and highlighted the key differences between the JBL Reflect Flow Pro vs the Sony WF-SP800N below.
Buy Sony WF-SP800N
Buy JBL Reflect Flow Pro 2021
JBL Reflect Flow Pro
Sony WF-SP800N
IP68 dust-tight and waterproof (win)
IP55 dust-protected and protected from low-pressure water spray
4 ear wing sizes

(win)

2 ear wing sizes
Weigh 7.2grams (win)
Weigh 9.9grams
8h battery life for music with ANC on
9h battery life for music with ANC on (win)
24h total battery life including charging case (win)
18h total battery life including charging case
2h charging time (0-100%) (win)
2.5h charging time (0-100%)
JBL Reflect Flow Pro Price US$215 (£159.99) (win)
Sony WF-SP800N Price $199 
IP Rating
For sports and outdoor active use, it is best to have an earbud with the highest IP rating of IP68 for dust-tight and waterproof at more than 1-meter depth. Even when you do not think you need such high specifications, it is always good to have that assurance that the sports earbud is certified dust-tight and waterproof against water and sweat, regardless if it is water splash, pressurised spray or submersion underwater.
The JBL Reflect Flow Pro has an IP68 rating, which will take the worries off our minds when doing sports near the swimming pool or the seaside. At this time, we are unsure as to the maximum depth of the certification and will update this post when the information is available.

Buy Sony WF-SP800N
Buy JBL Reflect Flow Pro 2021
Ear Wings
There are sport earbuds that can provide a tight and secure fit without any ear wings, such as the Jabra Elite Active 75t. However, one size can't fit all ears snuggly during an entire run. Ear wings are a necessity, also to prevent accidental brushes or knocks which can easily dislodge the earbuds if there is no ear wings support.
Even with ear wings, there is no guarantee that it will fit some wildly bigger or smaller ears, so 4 sizes of ear wings are definitely better than just 2 sizes. There are Sony WF-SP800N users who feedback (see below) that the earbuds do not fit well no matter which ear wing is used.
Both sports earbuds come with ear wings, however, JBL Reflect Flow Pro offers up to 4 sizes for the best custom fit using their Powerfins ear wings.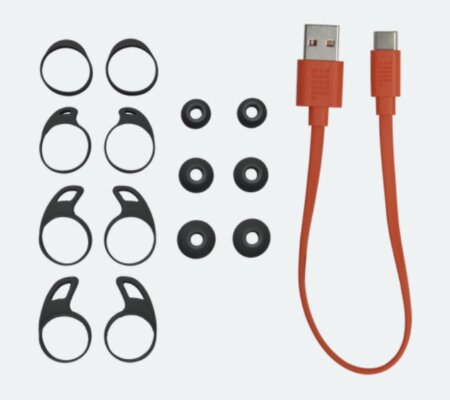 Weight
We do not feel the weight would be a key factor in deciding which earbuds are more suitable for sports, however, the lighter earbud always has an edge. As mentioned in our introduction, the general trend for earbuds is to get smaller and lighter.
Buy Sony WF-SP800N
Buy JBL Reflect Flow Pro 2021
Battery Life
The Sony WF-SP800N earbuds have a stunning battery life of 9 hours for music playback, but the JBL Reflect Flow Pro is not far behind with 8 hours of playtime. Furthermore, the JBL Reflect Flow Pro earbuds have a much shorter charging time, and 33% more battery life when including the charging case.
Highlight of Similar Features
There are important features where both earbuds are similar including:
Mono Mode: Both models allow either single earbud to be used, while the other is left in the charging case. We have researched several recent brands and such features are becoming a norm moving forward.
Both models have BlueTooth 5.0 and 10 meters operating range but do not have any bone conduction sensor used by recent flagship models.
User Feedback
The JBL Reflect Flow Pro is just launched recently in Europe, while the Sony WF-SP800N was launched in May 2020 and has accumulated a rating of above average on most shopping sites.
The following are some highlights of user feedback regarding issues with Sony WF-SP800N.
Some users feel the charging case is bulky,
Some users complained that the earbuds do not charge properly in the casing, which reminds of a similar issue with Klipsch T5 II TW Sports which has smaller connectors. The earbuds could get misaligned in the charging case and failed to charge, and when you need to use them the earbuds will be drained.
Buy Sony WF-SP800N
Buy JBL Reflect Flow Pro 2021
At least five or more users have complained about the earbud falling out even with the 2 earwings and 3 ear gels (see photo below) for custom fitting. As we have recommended, it is always better to have more ear wing size options for a better fit or if possible, try to find samples in the store to test if they will work on your ears.
Speaking of wearing them, they are near impossible to keep in my ears regardless of the set-up. I've tried all three sizes of silicone tips with both sets of wings. – user feedback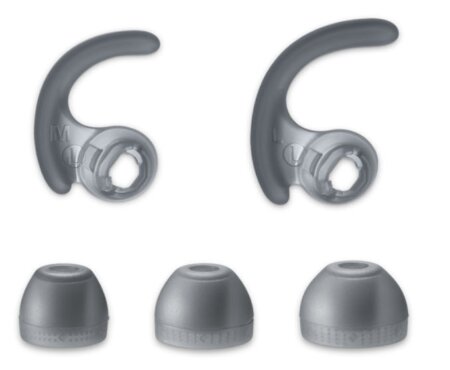 Conclusion
The new JBL Reflect Flow Pro has better specifications at around the same price as the one-year-old Sony WF-SP800N. However, there is no guarantee that either model will be better for you in actual use as it depends on a lot of factors. As you can see from thousands of user feedback reviews, that not everyone experiences the same issue.
One thing for sure when we plan to buy the JBL Reflect Flow Pro, is to find a test sample to try out the fitting. Another important lesson learnt from the Klipsch T5 II TW and Sony WF-SP800N is to test the charging:
Test for Earbud Charging Case:
Put the earbuds into the charging case, close and lock.
Shake the charging case as hard as possible for 10 seconds.
Open up and check if the earbuds light show they are still charging, or are they trying to connect to your phone.
If they are trying to connect to your phone when you open the case, it means the earbuds are not snug fit inside the charging case when you close it. This is a bad design and we recommend not to buy the earbuds because you will have a hard time getting them charged.