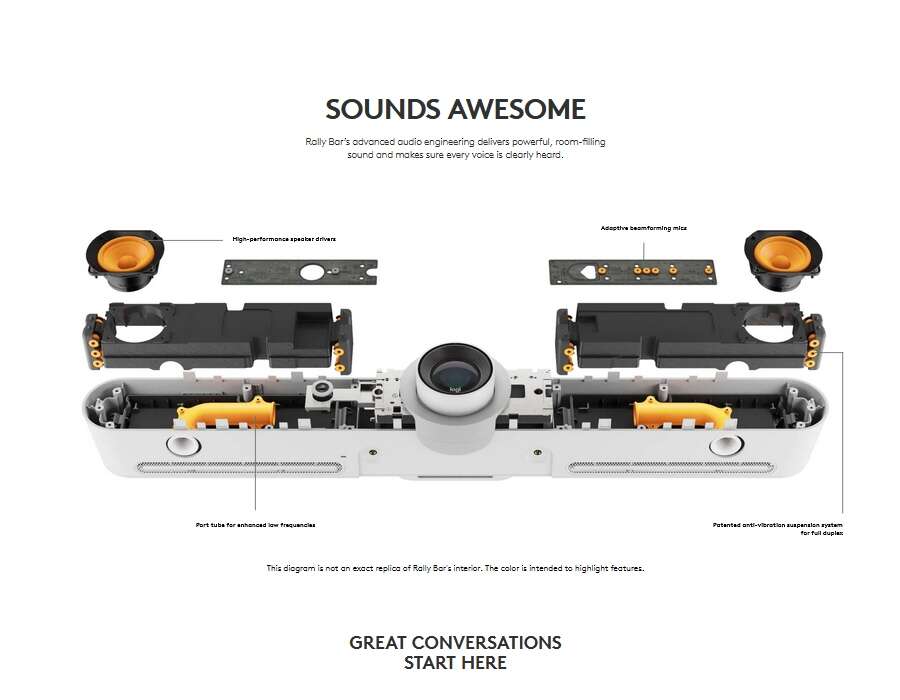 Logitech recently announced the launch of the Rally Bar, Rally Bar Mini, and Room Mate, to complete their range of video conferencing solutions for small, medium, and large room sizes.
Room Mate
The Room Mate is an appliance with built-in video conferencing software, including Zoom Rooms Appliances, Microsoft Teams Rooms on Android, and additional video conferencing platforms. It is developed to augment the modular Rally Plus system which currently requires a separate computer or laptop for the video conferencing software.
Before the Room Mate availability, the Logitech Rally Bar Plus system uses a Display Hub (circled red below) to connect to a host computer or laptop(not shown) that has video conferencing software installed. This Display Hub also connects to the Table Hub (not shown), HD screen, and the camera. The Table Hub as the name implies is placed on the conference room table and connects to the Rally Mics which are explained further below.  The Table Hub also includes other functions like 2 x HDMI IN, for participants to project their laptop on the screen if required.
Now the new Room Mate appliance replaces the Display Hub in the new "Appliance Mode" with built-in video conferencing software. It does not need to connect to a separate computer or laptop, and it comes with 2 HDMI output ports that connect up to two HD displays. There are 3 USB 3.0 Type-A ports used to connect to the two speakers and one standalone camera, as shown below.
The new Room Mate Appliance makes Rally Plus a more complete video conferencing solution for large rooms exceeding 40 sqm in size.

In either mode, using the new Room Mate or the Display Hub, both will connect to the Table Hub which in turn connects up to 7 Mic Pods by daisy chain, using 10m extension cables and the help of Mic Pod Hubs. Each Mic Pod Hubs (Blue) can connect to another hub or the Mic Pods, as shown in the diagram below.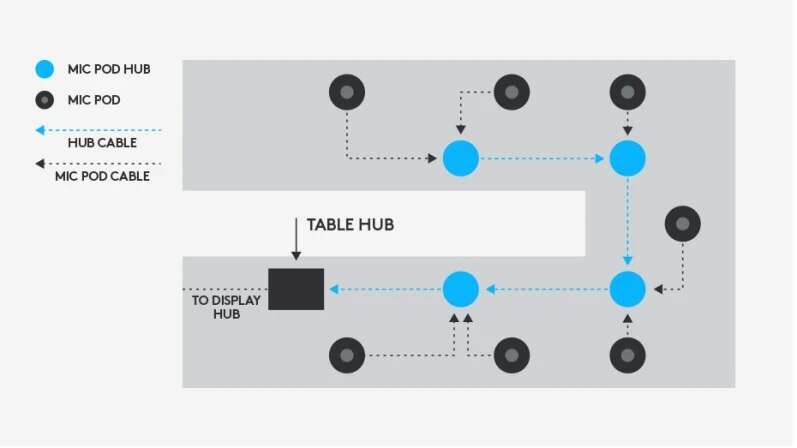 Each Mic Pod Hub can have 3 extension ports.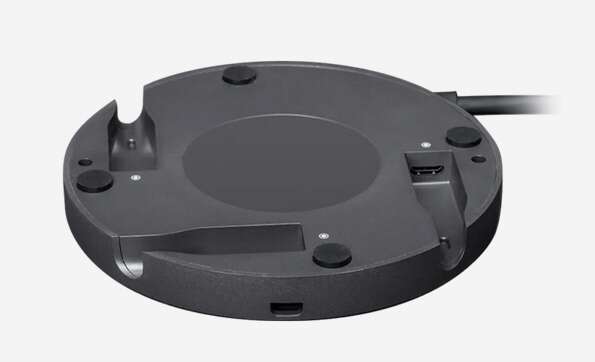 The Rally Mic Pod can also be joined directly by a daisy chain with another Rally Mic Pod. The Table Hub is very powerful and has active speaker detection once pods are all lined up. It analyzes the audio input from up to 7 Mic Pods and 56 beams in every 8ms.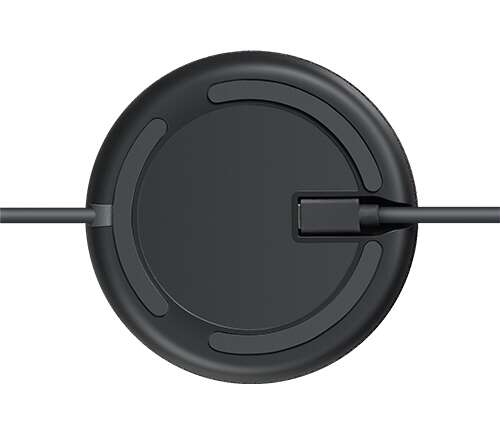 The Rally Mic Pods have a pickup range of 4.5m in diameter, and they can be placed anywhere in a large room as long as the cables can reach. The recommended participants for the first two microphone is 8 + 8 or 16 members. Each subsequent pod caters for an additional 6 participants, so the total recommended participants are 46 (16 + 6 x 5).
Rally Bar and Rally Bar Mini
While the Rally Plus is a modular system, the Rally Bar and Rally Bar Mini are All-In-One (AIO) system, which integrates the speaker, camera, microphones, appliances (video conferencing software) into one complete device. In addition, it has the same 2 x HDMI output to two HD displays and supports additional Rally Mic Pods.
Functional Comparison Table
Rally Bar Mini
Rally Bar
Rally Plus
Participants
Up to 8
Up to 13
More than 13
Room Size
< 15 sqm
15 – 40 sqm
> 40 sqm
Type
All-in-one
All-in-one
Modular
USB Mode
Yes
Yes
Yes
Appliance Mode
Yes
Yes
Require RoomMate
Motorized Pan Tilt
Yes
Yes
Yes
Total Room Coverage
163° h x 110° v
130° h x 80° v
260° h x 190° v
Zoom
4X digital zoom
Up to 15X total zoom (5X optical and 3X digital)*
Up to 15X total zoom
(5X optical and 3X digital)
RightSight™ Autoframing
Yes
Yes
Yes
RightLight
Yes
Yes
Yes
RightSound™
Yes
Yes
Yes
Expansion Mics
Up to 2 Rally Mic Pods
Up to 3 Rally Mic Pods
Up to 7 Rally Mic Pods
Mic Pod Hub
Up to 2
Up to 3
Up to 7
Speakers
1
1
2
Patented anti-vibration suspension system
Yes
Yes
Yes
Review Comments
At this time, the review does not cover the details of each piece of equipment due to its complexity. Based on our understanding so far, the most critical comment is that the system could be better if the Rally Mic Pods are designed to be wirelessly connected. This would be much easier to install and to move the pod positions as required, without worrying about messy cables.
The latest AIO Rally Bar and Mini as a completely integrated video conferencing system are definitely more superior to the Rally Plus modular system.
Resources:
Rally Mic Pod Hub
Logitech Rally Bar
Logitech Rally Bar Mini
Logitech Rally Plus
Logitech Room Mate
Logitech Rally Specs and Info Page