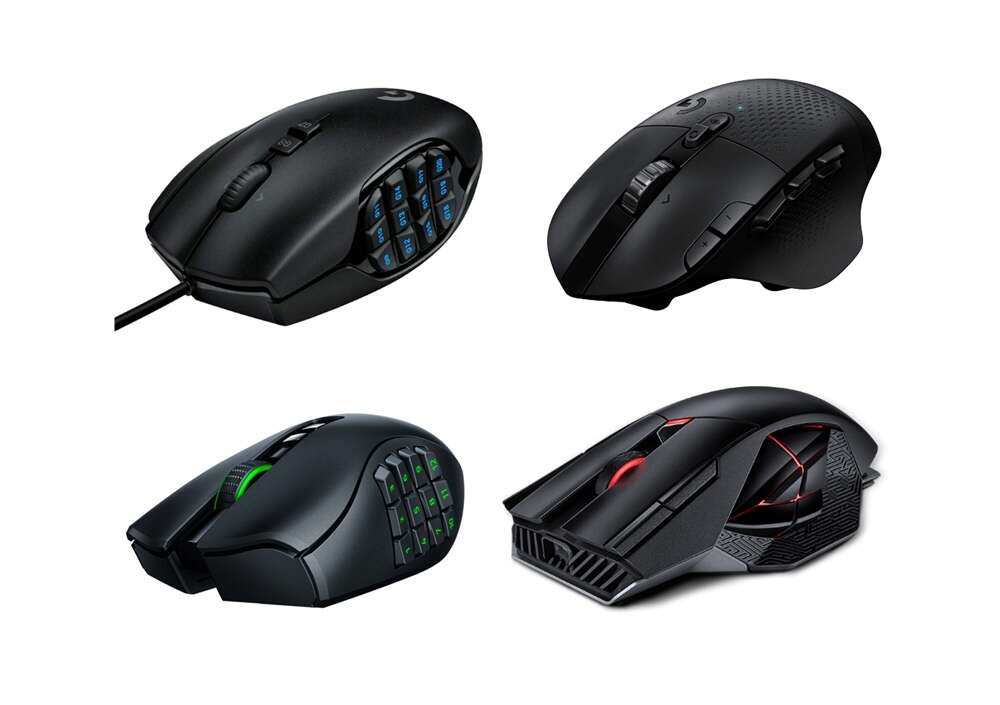 The following is a simplified comparison chart MMO Mouse in the market serves as an entry point for anyone to explore further reviews into specific model. It gives the key specifications that we would normally look before to downselect to pick the few that we liked. Just because everyone buys the Razer Naga Pro on Amazon.com does not mean it is the best or would meet your needs.
What is MMO Mouse
MMO Mouse are designed for use in MMORPG (Massively Multiplayer Online Role Playing Game). Such games have seemingly endless game play actions which would benefit by setting up keyboards and mouse shortcuts. The objective is to have quick reaction by directly pressing the keys on the keyboard (left hand) and mouse (right hand).
For example, there could be 3 spell schools (Wizard, Necromancer and Mystic) and each spell schools have 64 spells. If a game character is a pure Mage, the game may allow him to learn all 3 schools, which means he has the ability to use 180 spells at this disposal.This is besides other shortcuts that he may want to have, such as riding a mount, activating items, running, etc.
So depending on MMO game, it is very easy to use up all the shortcuts with 108 keyboard keys and 20 over mouse keys. So more keys, the merrier.
The comparison chart is focused on the number of keys and their location. Most MMO Mouse have 12 keys on the side panel, pioneered long time ago by the Logitech G600. Ironically, every other brand has come up with newer versions of the 12-key side panel MMO mouse, except Logitect who reduced it to 6 keys in G604. It could have been the best seller if G600 can be upgraded with G604 features without losing the side 12-key panel.
MMO Mouse Comparison Chart
Programmable Buttons (physical)

MMO Mouse

Total
Side
Top
Bot
Tilt
Wheel
Clicky/
Smooth
Connect
Batt.
Batt.
Life
Weight
Remarks
Logitech G600
18
12
6
0
Yes
Clicky
Wire
No
–
133g
Likely out of production
Razer Naga Pro
18
12
5
1
Yes
Clicky
Wireless
2.4Ghz, Bluetooth 5.0 (BLE)
Recharge
Micro-USB
150h
(BLE)
100h
(wireless)
117g
Swappable side buttons layout.
Toggle profile button at bottom of mouse.
Razer Naga X
16
12
4
0
No
Clicky
Wire
No
–
110g
Razer Naga Trinity
19
12
7
0
Yes
Clicky
Wire
No
–
120g
(-cable)
Logitech G604
11
6
5
0
Yes
Both
Wireless
2.4Ghz, Bluetooth 5.0 (BLE)
1 x AA
5 months
(BLE)
240h
(wireless)
135g
(+batt)
Steelseries Rival 500
13
6
7
0
Yes
Clicky
Wire
No
–
129g
Out of production
Corsair Scimitar Pro RGB Optical
17
12
5
0
No
Clicky
Wire
No
–
147g
(-cable)
Sliding side keypad, locked by key at bottom of mouse.
ASUS ROG Spatha
12
6
6
0
No
Clicky
Wireless
2.4Ghz,
Wire Micro-USB
Recharge
Micro-USB
2 days
178.6g
Replaceable mouse key switches. DPI button not programmable.
Redragon M908
16
12
4
0
No
Clicky
Wire
No
–
114g
Adjustable weight.
Redragon M913 Impact Elite
16
12
4
0
No
Clicky
Wireless
2.4Ghz,
Wire USB-C
Yes
80h
129g
The programmable buttons refer to the number of "physical button" that can be programmed. Most buttons are straightforward, except for the Scroll Wheel which also serves as the MMB (Middle Mouse Button).
The Scroll Button
On some models, the scroll wheel alone can have up to 5 programmable functions that can be modified to serve other than its original default purpose:
Press
Scroll Up
Scroll Down
Tilt Left
Tilt Right
Our Ideal MMO Mouse
Ideally, the ultimate MMO mouse would like combine the best features of three most popular MMO mouse:
Razer Naga Pro
Logitech G600
Logitech G604
The desirable Tech Specs for the MMO Mouse should have:
Side keypad: Option to swap between 12 and 6-key panels like the Naga Pro
2 x Index finger top buttons beside the Left Mouse Button (LMB) like the Logitech G604
Another large button to the Right of the Right Mouse Button (RRMB), like the G600 and Steelseries Rival 500. So there should be 3 large buttons on top besides the scrollwheel and the rear DPI buttons.
The scroll wheel should be switchable between clicky and smooth scroll like the G604.
The scroll wheel should have a flat profile like the G604.
USB-C charging or wired port, not micro-USB. Eventually all devices should converge to USB-C only.
Multi-device pairing capability like the Logitech mouse.
3-way connectivitiy via Wireless 2.4GHz, Bluetooth 5.0 BLE, and wired connection.