Tech Talk
Difference Between Quick Charge and Power Delivery Fast Charge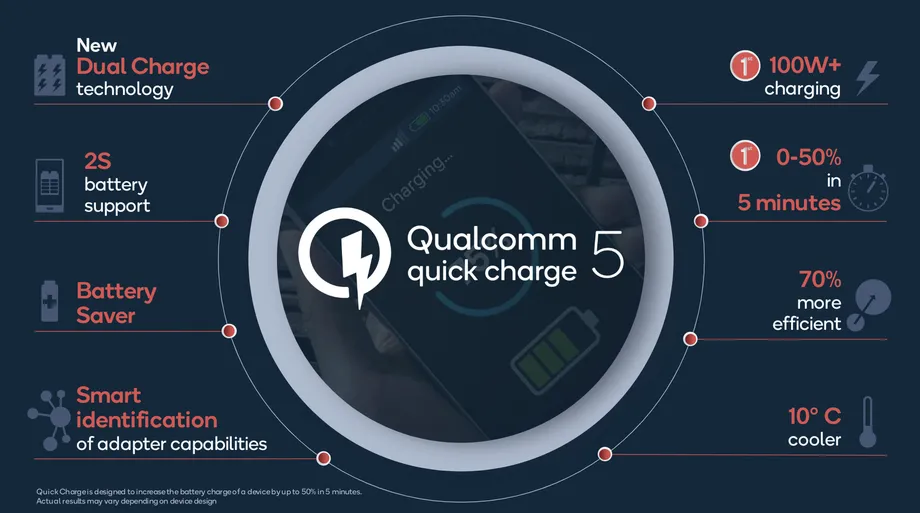 When a product specification says that "fast charging is supported", what does that mean? The safest way is to use the recommended charger for the device and close the case. But what if you have 10 different types of gadgets, so are you going to use 10 different chargers at the home, office and when traveling?
If you need to buy multiple port USB chargers, you may need to know about the supported protocols so as to make sure that your mobile devices can be charged just as fast as when the third-party chargers such as GaN 200W chargers.
Qualcomm Quick Charge
Quick charge (QC) is a fast-charging method developed by Qualcomm for smartphones that use their Qualcomm Chip. The most popular Qualcomm chip is the  Snapdragon processors, used by brands such as Samsung, HTC, and Xiaomi smartphones.
The following table is simplified based on a table obtained from Wikipedia and around the web which contains a lot of confusing information. What is important to note is that if a device or charger is not specified to support QC, then the following does not apply to them. They could be using another protocol, which may not be compatible with other devices that you own.
Version
Connector

Max Power
QC 1.0
(2013)
USB-A/ micro-USB
10W
(5V, 2A)
QC 2.0
(2014)
USB-A/ micro-USB
18W
(9V, 2A)
QC 3.0
(2016)
USB-A/ micro-USB
USB-C
36W
(12V, 3A)
QC 4.0
(2017)
USB-C
100W
(20V, 5A)
QC 4.0+
(2017)
USB-C
As above and also:
27W via USB PD
(9V x 3A)
QC 5.0
USB-C
>100W
QC is not the same as PD, however, starting from QC 4+, chargers can also support PD at up to 27W.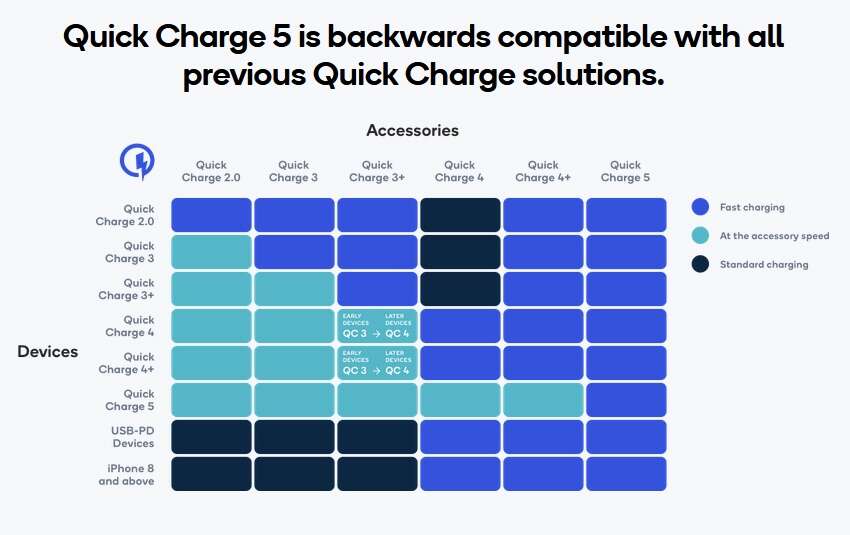 The maximum power for each QC standard is listed, however, the actual power used in a device depends on other factors such as the type of USB connector and the design of the device itself.
Due to convoluted information on the earlier Quick Charge standards, we only list some of the specifications in the table for discussion purposes. The above is not meant as a guide for you to mix and match chargers with devices.
USB Power Delivery
USB Power Delivery is introduced by the creators of the USB and is supported by any device that has the PD protocol.
| | | | | |
| --- | --- | --- | --- | --- |
| Specification | Connector | Current | Voltage | Max. Power |
| Power Delivery 1.0 | Micro-USB | 3A | 20V | 60W |
| Power Delivery 1.0 | USB-A/B | 5A | 20V | 100W |
| Power Delivery 2.0 and 3.0 | USB-C | 5A | 20V | 100W |
| Power Delivery 3.1 | USB-C | 5A | 48V | 240W |
Those devices without any power delivery or special charging protocol should fall back to the older standards, and some of them are listed below:
| | | | | |
| --- | --- | --- | --- | --- |
| USB Type | Connector | Voltage | Current | Power  |
| USB 2.0 | USB-A | 5V | 0.5A | 2.5W |
| USB 3.1 | USB-A | 5V | 0.9A | 4.5W |
| USB BC 1.2 | ? | 5V | 1.5A | 7.5W |
| USB-C 1.5A | USB-C | 5V | 1.5A | 7.5W |
| USB-C 3A | USB-C | 5V | 3A | 15W |
USB BC refers to "Battery Charging", which should be using a USB-A/micro-USB charging connector.
Conclusions
Before Quick Charge 4.0+, it was clear that Qualcomm devices and charges do not benefit from USB power delivery protocol. This changed for QC 4+ but according to the Wiki the PD support is only up to 27W which is less than QC 4+ 100W.
The question is whether Qualcomm's QC 5.0 fully supports USB PD 3.1 up to 240W. This is not clear at this time as both protocols are quite new and we should find out in due course.
Besides Qualcomm's Quick Charge and USB-IF's Power Delivery, there are other charging protocols, such as the DR recent Xiaomi Hypercharge that can support up to 200W wired and 120W wireless power. The purpose of this article is not to cover all the protocols but to be aware of the charger and device support.
In the meantime, we are going to expect several benefits from the ongoing development, such as faster charging speed to come, and lighter chargers for more powerful devices including gaming and workstation laptops.
The charging time is very important than before due to the increasingly powerful devices and larger battery capacities. Furthermore, we need to charge many different types of mobile devices such as smartphones, tablets, cameras, watches, and earbuds. Some may even carry two smartphones, one for office and another for personal use.