Marsitte 3D Laser SLA Printers is scheduled to launch at Kickstarter.com around February 2022. There were earlier news of Masitte's Kickstarter launch in 2020, but it was probably delayed due to Covid restrictions like most crowdfunding projects.
Kickstarter – Masitte Project: The project title is "Affordable Industrial Grade Laser SLA 3D Printer", so we are expecting a lower price point when compared to other industrial grade laser SLA.
The laser SLA from Masitte is stated to be better than the MSLA 3D printer that uses LCD screen, which could be damaged by leaked resin, overheating or broken by any reason. Based on our knowledge, there is no clear advantage for the three types of SLA as each has their pros and cons. However, technically speaking Laser SLA is expected to deliver a better quality print if speed is not a major concern.
| | | |
| --- | --- | --- |
| Laser SLA | MSLA | DLP SLA |
| Slower speed, about the same as FDM. Speed can be improved by printing the outer skin only (hollow) for prototypes | Faster speed | Faster speed |
| Resolution is independent of the actual build size. | Resolution is fixed based on the LCD photomask production. | Resolution is dependent on build size. Larger prints produce rougher resolution. |
| Smoother finishing on completion | Visible layer, voxel lines or effect | Visible layer, voxel lines or effect |
Excerpts of the printer design from the pre-launch press release preview:
Made by high-quality industrial-grade full metal body parts Masitte 3D printers can work for years by not requiring any part for replacement or issues to give to its user. The laser has 10.000+ hours of lifespan(min 2 years in very active usage) Early users have been using the printers for over a year, they did not change any part but FEP films.
Masitte 3D printers differentiate themselves from any other resin 3D printers with its never-seen design. Its motion system components are housed inside of the main case. When Z-Axis is in the zero position (bottomed down) MASITTE can be %38 smaller than its Z-Axis top position.
A powerful laser system with 80-micron small laser spot size, precision galvo, and stable linear motion system enables accurate high detail prints. 
Stated Advantages
Lifespan: 10,000+ hours (approximately 2 years)
Power laser system with 80-micron laser spot size
Precision galvanometer
Stable linear motion system
According to Masitte, they already have more than 10 users who are actively using the Masitte 3D printers for their work, and all the existing 3 models uses the Laser-based SLA (Stereolithography).
Currently, Marsitte 3D Laser SLA Printers includes the following models as shown below. Note that these photos may not be the latest from the supplier, please visit their website for more details at www.marsitte.com.
Masitte Plus: This is the smallest model weighing at 12kg (26lbs) and is primarily used for printing 3D prototype parts up to a build volume of 15 x 15 x 19cm (5.9 x 5.9 x 7.7in).
Masitte Dent: This model is about the same size (11kg) as the Masitte Plus but is designed primarily for dentists to make crown or bridge models, and dental aligners. The maximum build size is 15 x 15 x 13cm, which is slightly smaller than the Masitte Plus.
Masitte Large: As the name implies, this is a large-size 3D printer with a build volume of 23 x 23 x 39cm (9.1 x 9.1 x 15.3in)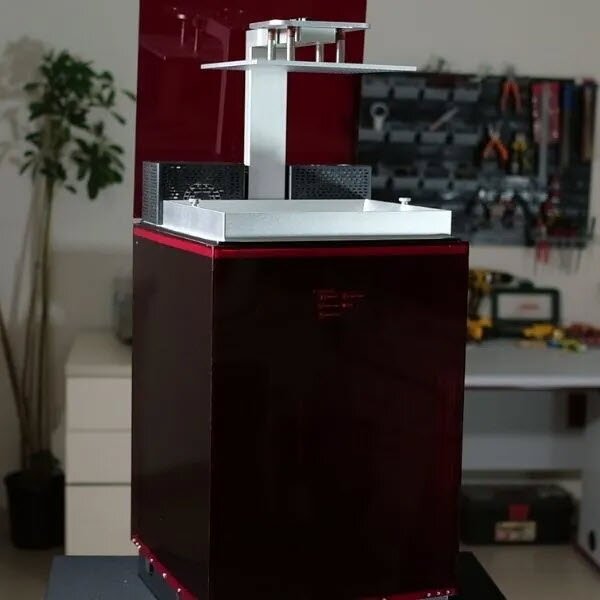 We do not have any details or or videos of the productions at this time.
Some Questions
We are awaiting for the product launch to see the actual videos demonstrating the printing the denture or shoe sole. Since they said there are already more than 10 active users for the product, we are expecting more videos showing the product in action with much clearer videos.
In the meantime, the following are some preliminary questions pertaining to the design.
Besides the build size, how is Masitte Plus different from Masitte Dent in terms of design?
Can we use Masitte Plus or Masitte Large to print denture models as well?
Assuming everything goes on track, the Marsitte 3D Laser SLA Printers project will be launched in Feb 2022 and which would provide more clarity to the questions above.
Disclaimer: The purpose of this article is to share an upcoming launch. We are not affiliated to Masitte.com