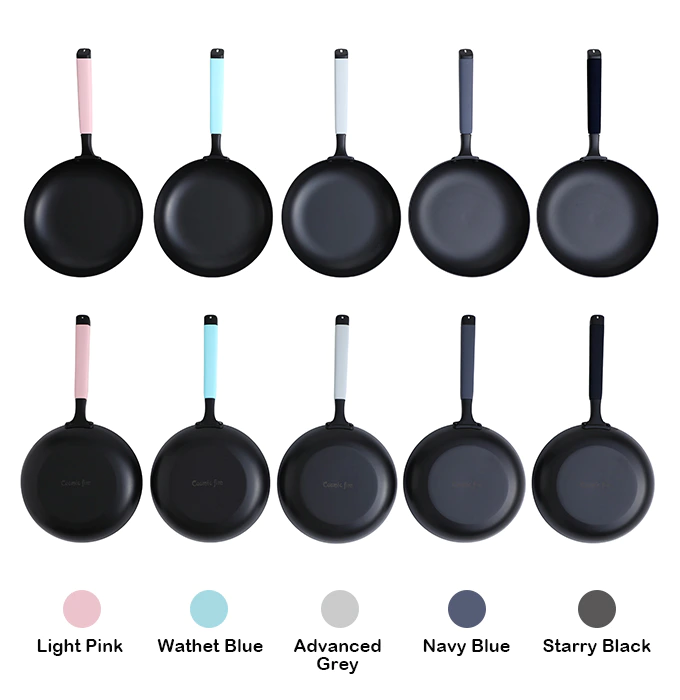 The Cosmic Fire Pan is a non-stick pan with graphene coating that is free from PFOA and PTFE. The product was launched via a Kickstarter campaign until 14 October 2021.
Pros and Cons
| | |
| --- | --- |
| Pros | Cons |
| Free from Perfluorooctanoic acid (PFOA) and Polytetrafluoroethylene (PTFE), toxic substances | The handle is riveted to the pan |
| Non-stick, graphene coating | TUV Test Certificate is so small that we cannot read what it is saying |
| | The whole pan cannot go inside oven and dishwasher. |
Graphene or Resin Coating?
The main selling point of the pan appears to be the graphene coating on what seems to be a normal cast iron pan.
According to research at Harvard (Science, Volume 321, Issue 5887, pp. 385- (2008), the report summarised that that graphene is a very stronger material. and it has also high thermal conductivity. These are based on test results of graphene, which may or may not be the same as the type used on Cosmic Fire Pan.
The pan on the market is easy to drop the coating after using it several times, while the Cosmic Fire Pan uses organic resin coating. After a strict process, the coating is not easy to drop and it is very durable.
There are no further details of the organic resin coating, and how it relates to graphene coating. We found several websites discussing graphene-based epoxy resin, which leads to another rather long research as to whether they are suitable for use in cooking ware.
I am not sure about you, but I would not agree to eat anything with obscure chemicals inside. At least we all know what is PTFE and PFOA, thanks to honest manufacturers. But we are concerned with unbranded, new cookware touting "secret" coatings with confusing marketing material.
Disadvantages
Well, the only advantage is graphene, and even then there are questions about whether the type used by this brand is certified and to what extent.
We cannot even read what is written on the test certificates. What you see below is exactly what was posted, which is very hard to read even with a magnifying glass.
The handle is made from hollow aluminium alloy, using high-strength, ultra-light, seamless techniques and it is covered with a food-grade organic silicone sleeve for easy handling. This is good for normal cooking but some cooks like to put the whole pan into the dishwasher and oven for baking. The silicon sleeve for the handle will not be able to go into the oven.
Although most cooking pans have their handles riveted to the pan, they are considered a disadvantage as food and oil can get trapped underneath the rivet head. Over time, the rivets can become loose and require hammering to tighten them back. It is not hard to find quality woks and pans at Amazon which has welded handlebar.
Last but not least, it was touted as lightweight but there is no weight information provided.
Conclusion
In conclusion, the creator should provide clearer information about the product especially in terms of safety. We do not mind if any coating is used for a display or non-functional item, but the coating on cookware is a different matter.
A good cook would prefer carbon steel or cast iron pan, and he should have no problem seasoning or making them non-stick by maintaining the layer of patina.
In the comments, the creators also said that carbon steel will deform, which we believe depends on the thickness and design. Carbon steel woks and pans are quite common, and we have not heard of such widespread issues.