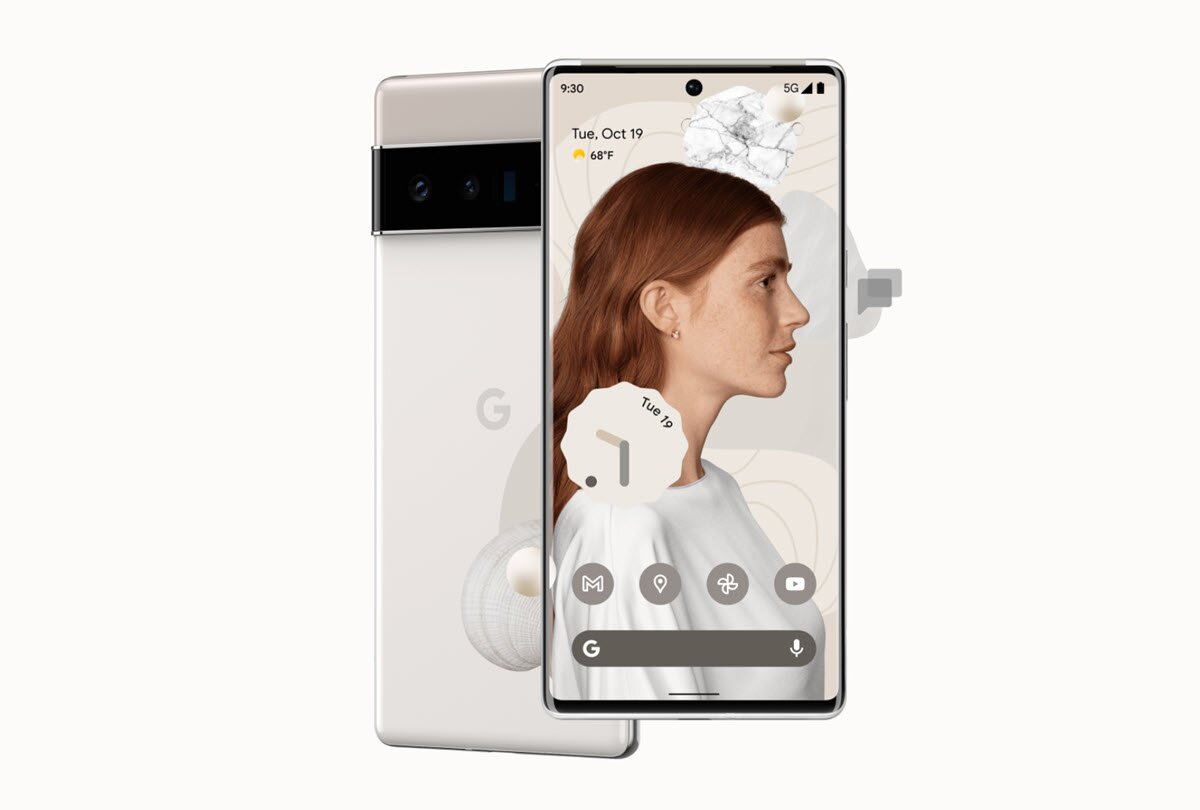 ---
The Google Pixel 6 and 6 Pro was launched on 19 October and are currently available for preorder at Google Store.
Google Pixel 6 Pro is priced competitively as follows:
128GB, 12GB RAM: $899
256GB, 12GB RAM: $999
512GB, 12GB RAM: $1099
Samsung Galaxy S21 Ultra 512GB, 12GB cost over $1370.
Google Pixel 6 accessories are also flooding the stores, such as shockproof phone cases like this Poetic Revolution Case
And also Google's own 30W USB-C charger.
Table of Contents
Key Features of Google Pixel 6 Pro and Pixel 6
The following are the key features that are on par with the Apple iPhone 13 Pro and Samsung Galaxy S21 Ultra.
8.9mm thick, same as Samsung Galaxy S21 Ultra
IP68 dust-tight design and water-resistant up to 6 meters for 30 mins.
Front display glass uses Corning® Gorilla® Glass Victus™
120 Hz adaptive OLED display
Octa-Core processor up to 2.8 GHz, and up to 512GB and 12GB RAM
Fingerprint Sensor (optical), which is inferior compared to Samsung Galaxy Ultra's ultrasonic fingerprint sensor.
Pixel 6 Pro has a triple rear camera with 50MP wide, 48 MP ultrawide and 12 MP telephoto lens while Pixel 6 has a dual-lens which is similar but excludes the telephoto lens.
A large camera sensor of 1.31-in is almost the same size as the one used in Samsung Galaxy S21.
A large battery capacity of 5000 mAh (Pixel 6 Pro) and 4600 mAh (Pixel 6) with more than 24 hours battery life.
Support fast charging, wireless charging and reverse wireless charging (battery sharing)
Same connectivity as most smartphones including Bluetooth 5.2, Wi-Fi 6e, GPS, and NFC.
USB 3.1 Type-C Connector
No 3.5mm Connector and no stylus support
Google Pixel 6 Pro Review Comments
In general, we are happy with the Google Pixel 6 Pro and 6 specifications which we opine are better than iPhone 13 Pro Max, and is competitive with Samsung Galaxy S21 Ultra. The above key features are all the reason to buy the Google Pixel 6 as they have become matured after six iterations and can now take on the two favourites, namely the Apple iPhone and Samsung Galaxy S Series.
If there is any reason holding us from buying the Google Pixel 6 Pro or 6 is the optical fingerprint sensor.
This is the Achilles heel for any phone using a fingerprint sensor because it relies on fingerprint imaging, and thus require reasonably clean fingers and glass in order to work.
On the other hand, the ultrasonic finger sensor relies on sound waves bumping off the ridges of the finger skin which is works more reliably even when there are light smudges that would have affected the optical fingerprint sensor. This comment is based on our own experience using both types of fingerprint sensors over the past 5 years or more.
Another disadvantage is the lack of stylus support for the Pixel 6 Pro which does not seem to be an issue now but will be the reason it loses out the new Samsung Galaxy S22 Ultra in 2022 which is rumoured to have stylus support.
Main Differences Between Google Pixel 6 Pro and Pixel 6
Tech Specs
Google Pixel 6 Pro 
Google Pixel 6
Form Factor
Size
163.9 x 75.9 x 8.9 mm
6.45 x 2.99 x 0.35 in
158.6 x 74.8 x 8.9 mm
6.24 x 2.94 x 0.35 in
Weight
210g (7.4 oz)
207g (7.3 oz)
Colours
Stormy black, cloudy white, sorta sunny
Stormy black, kinda coral, sorta seafoam
Display
Screen Type
LTPO OLED QHD+
OLED FHD+
Screen Size
6.7″ (110.5 cm2)
6.4″ (98.9 cm2)
Resolution
1440 x 3120 pixels, 19.5:9 ratio
512 ppi
1080 x 2400 pixels, 20:9 ratio
411 ppi
Refresh Rate
120 Hz, adaptive
90 Hz, adaptive
Screen-to-body
88.8%
83.4%
Hardware & OS
OS
Android 12
Android 12
Chipset
Google Tensor (5 nm)
Google Tensor (5 nm)
Processor
Octa-core
2×2.80 GHz Cortex-X1 & 2×2.25 GHz Cortex-A76 & 4×1.80 GHz Cortex-A55
Octa-core
2×2.80 GHz Cortex-X1 & 2×2.25 GHz Cortex-A76 & 4×1.80 GHz Cortex-A55
GPU
Mali-G78 MP20
Mali-G78 MP20
RAM/Storage
12GB/128GB, 12GB/256GB, 12GB/512GB
(LPDDR5/UFS 3.1)
8GB/128GB, 8GB/256GB,
(LPDDR5/UFS 3.1)
Battery
Capacity
5003mAh (typ), non-removable.
4614mAh (typ), non-removable.
Type
Lithium Polymer
Lithium Polymer
Wired Charging
Fast charging 30W
50% in 30 min
Fast charging 30W
50% in 30 min
Wireless Charging
Fast wireless charging 23W
Fast wireless charging 21W
Rear Camera
Resolution
50 MP (wide) ƒ/1.85 , 1/1.31″, 1.2 μm, LDAF sensor, OIS, 82° FOV
12 MP (ultrawide) ƒ/2.2, 1.25 μm, 114° FOV, Lens correction
48 MP (telephoto) ƒ/3.5, 1/2″, 0.8 μm, 23.5° FOV
50 MP (wide) ƒ/1.85 , 1/1.31″, 1.2 μm, LDAF sensor, OIS, 82° FOV
12 MP (ultrawide) ƒ/2.2, 1.25 μm, 114° FOV, Lens correction
Front Camera
Resolution
11.1 MP (ultrawide) ƒ/2.2, 1.22 μm, 94° FOV, Fixed focus
8 MP (wide) ƒ/2.0, 1.12 μm, 84° FOV, Fixed focus
Full Tech Specs for Google Pixel 6 Pro and Pixel 6
Tech Specs
Google Pixel 6 Pro 
Google Pixel 6
Release Date
19-Oct-21
19-Oct-21
Form Factor
Size
163.9 x 75.9 x 8.9 mm
6.45 x 2.99 x 0.35 in
158.6 x 74.8 x 8.9 mm
6.24 x 2.94 x 0.35 in
Weight
210g (7.4 oz)
207g (7.3 oz)
IP Rating
IP68 (6m for 30mins)
IEC standard 60529
IP68 (6m for 30mins)
IEC standard 60529
Material
Front & Back: Corning® Gorilla® Glass Victus™
Aluminium frame
Front & Back: Corning® Gorilla® Glass Victus™
Aluminium frame
Colours
Stormy black, cloudy white, sorta sunny
Stormy black, kinda coral, sorta seafoam
Display
Screen Type
LTPO OLED QHD+
OLED FHD+
Screen Size
6.7″ (110.5 cm2)
6.4″ (98.9 cm2)
Resolution
1440 x 3120 pixels, 19.5:9 ratio
512 ppi
1080 x 2400 pixels, 20:9 ratio
411 ppi
Brightness Max
NA
NA
Refresh Rate
120 Hz, adaptive
90 Hz, adaptive
Screen-to-body
88.8%
83.4%
Contrast Ratio
1,000,000:1
1,000,000:1
Colours
24 bits, or 16 million colours
24 bits, or 16 million colours
Features
HDR
High brightness mode
Fingerprint-resistant coating
HDR
High brightness mode
Fingerprint-resistant coating
Hardware & OS
OS
Android 12
Android 12
Chipset
Google Tensor (5 nm)
Google Tensor (5 nm)
Processor
Octa-core
2×2.80 GHz Cortex-X1 & 2×2.25 GHz Cortex-A76 & 4×1.80 GHz Cortex-A55
Octa-core
2×2.80 GHz Cortex-X1 & 2×2.25 GHz Cortex-A76 & 4×1.80 GHz Cortex-A55
GPU
Mali-G78 MP20
Mali-G78 MP20
RAM/Storage
12GB/128GB, 12GB/256GB, 12GB/512GB
(LPDDR5/UFS 3.1)
12GB/128GB, 12GB/256GB, 12GB/512GB
(LPDDR5/UFS 3.1)
SIM Card
Dual SIM (Nano-SIM and/or eSIM)
Dual SIM (Nano-SIM and/or eSIM)
Expansion Card
No
No
3.5mm Ear Jack
No
No
Audio
Security
In-screen fingerprint (Optical)
In-screen fingerprint (Optical)
Stylus Support
No
No
Sensors
Accelerometer
Fingerprint Sensor (Optical)
Gyro Sensor
Geomagnetic Sensor
Hall Sensor
Light Sensor
Proximity Sensor
Barometer
Accelerometer
Fingerprint Sensor (Optical)
Gyro Sensor
Geomagnetic Sensor
Hall Sensor
Light Sensor
Proximity Sensor
Barometer
Battery
Capacity
5003mAh (typ), non-removable.
4614mAh (typ), non-removable.
Type
Lithium Polymer
Lithium Polymer
Wired Charging
Fast charging 30W
50% in 30 min
Fast charging 30W
50% in 30 min
Wireless Charging
Fast wireless charging 23W
Fast wireless charging 21W
Reverse Wireless
Charging
Yes
Yes
Charging Technology
PD 3.0
PD 3.0
Battery Life
At least 24-34 hours (tested)
48 hours with battery saver
At least 24-34 hours (tested)
48 hours with battery saver
Rear Camera
Resolution
50 MP (wide) ƒ/1.85 , 1/1.31″, 1.2 μm, LDAF sensor, OIS, 82° FOV
12 MP (ultrawide) ƒ/2.2, 1.25 μm, 114° FOV, Lens correction
48 MP (telephoto) ƒ/3.5, 1/2″, 0.8 μm, 23.5° FOV
50 MP (wide) ƒ/1.85 , 1/1.31″, 1.2 μm, LDAF sensor, OIS, 82° FOV
12 MP (ultrawide) ƒ/2.2, 1.25 μm, 114° FOV, Lens correction
Camera Features
Night Sight
Top Shot
Portrait Mode
Super Res Zoom
Motion autofocus
Live HDR+
Frequent Faces
Dual Exposure Controls
Cinematic Pan
Ultrawide Lens
Portrait Light
Magic Eraser
Motion Mode
Real Tone
Face Unblur
Panorama
Manual white balancing
Locked Folder
Night Sight
Top Shot
Portrait Mode
Super Res Zoom
Motion autofocus
Live HDR+
Frequent Faces
Dual Exposure Controls
Cinematic Pan
Ultrawide Lens
Portrait Light
Magic Eraser
Motion Mode
Real Tone
Face Unblur
Panorama
Manual white balancing
Locked Folder
Video recording
4K: 30/60fps
1080p: 30/60/120/240fps
4K: 30/60fps
1080p: 30/60/120/240fps
Front Camera
Resolution
11.1 MP (ultrawide) ƒ/2.2, 1.22 μm, 94° FOV, Fixed focus
8 MP (wide) ƒ/2.0, 1.12 μm, 84° FOV, Fixed focus
Video capture:
4K: 30fps
1080p: 30/60fps
4K: 30fps
1080p: 30/60fps
Connectivity
Bluetooth Ver
5.2, A2DP, LE
5.2, A2DP, LE
Wi-Fi Ver
Wi-Fi 802.11 a/b/g/n/ac/6e, dual-band, Wi-Fi Direct, hotspot
Wi-Fi 802.11 a/b/g/n/ac/6e, dual-band, Wi-Fi Direct, hotspot
Connector
USB Type-C 3.1
USB Type-C 3.1
GPS
Built‑in GPS, GLONASS, Galileo, QZSS
Built‑in GPS, GLONASS, Galileo, QZSS
NFC
Yes
Yes
Infra-Red Port
No
No
Network
5G, 4G LTE, HSPA, GSM
5G, 4G LTE, HSPA, GSM
Compare Google Pixel 6 Pro and Samsung Galaxy S21 Ultra
Tech Specs
Google Pixel 6 Pro 
Galaxy S21 Ultra 5G
Release Date
19-Oct-21
14-Jan-21
Form Factor
Size
163.9 x 75.9 x 8.9 mm
6.45 x 2.99 x 0.35 in
165.1 x 75.6 x 8.9 mm
6.5 x 2.98 x 0.35 in
Weight
210g (7.4 oz)
227 g (8.01 oz)
IP Rating
IP68 (6m for 30mins)
IEC standard 60529
IP68
IEC standard 60529
Material
Front & Back: Corning® Gorilla® Glass Victus™
Aluminum frame
Front & Back: Corning® Gorilla® Glass Victus™
Aluminum frame
Colors
Stormy black, cloudy white, sorta sunny
Phantom black , silver, navy, titanium, brown.
Display
Screen Type
LTPO OLED QHD+
Dynamic AMOLED 2X
edge Quad HD+
Screen Size
6.7″ (110.5 cm2)
6.8″ (112.1 cm2)
Resolution
3120 x 1440 pixels, 19.5:9 ratio
512 ppi
3200 x 1440 pixels, 20:9 ratio,
515 ppi
Brightness Max
NA
1500 nits peak (typ)
Refresh Rate
120 Hz, adaptive
120 Hz
Screen-to-body
88.8%
89.8%
Contrast Ratio
1,000,000:1
2,000,000:1
Colours
24 bits, or 16 million colours
16million
Features
HDR
High brightness mode
Fingerprint-resistant coating
HDR+ Certified
Infinity-O Display: a near bezel-less, full-frontal screen.
Hardware & OS
OS
Android 12
Android 11, One UI 3.1
Chipset
Google Tensor (5 nm)
Qualcomm® Snapdragon™ 888
5nm power-efficient
Processor
Octa-core
2×2.80 GHz Cortex-X1 & 2×2.25 GHz Cortex-A76 & 4×1.80 GHz Cortex-A55
USA/China: Octa-core (1×2.84 GHz Kryo 680 & 3×2.42 GHz Kryo 680 & 4×1.80 GHz Kryo 680)
Worldwide: Octa-core (1×2.9 GHz Cortex-X1 & 3×2.80 GHz Cortex-A78 & 4×2.2 GHz Cortex-A55)
GPU
Mali-G78 MP20
Mali-G78 MP14 – Global
Adreno™ 660 GPU – China/USA
RAM/Storage
12GB/128GB, 12GB/256GB, 12GB/512GB
(LPDDR5/UFS 3.1)
12GB/128GB, 12GB/256GB, 12GB/512GB, 16GB/512GB
(LPDDR5/UFS 3.1)
SIM Card
Dual SIM (Nano-SIM and/or eSIM)
Dual Nano SIM or
Single Nano SIM and eSIM
Expansion Card
No
No
3.5mm Ear Jack
No
No (USB-C)
Security
In-screen fingerprint (Optical)
2D Face unlock,
In-screen fingerprint (Ultrasonic)
Stylus Support
No
Yes, S Pen
Sensors
Accelerometer
Fingerprint Sensor (Optical)
Gyro Sensor
Geomagnetic Sensor
Hall Sensor
Light Sensor
Proximity Sensor
Barometer
Accelerometer
Fingerprint Sensor (Ultrasonic)
Gyro Sensor
Geomagnetic Sensor
Hall Sensor
Light Sensor
Proximity Sensor
Barometer
Battery
Capacity
5003mAh (typ), non-removable.
5000mAh (typ), non-removable.
Type
Lithium Polymer
Lithium-Ion
Wired Charging
Fast charging 30W
50% in 30 min
Fast Charging 25W
Wireless Charging
Fast wireless charging 23W
Fast Qi/PMA wireless charging 15W
Reverse Wireless
Charging
Yes
4.5W
Charging Technology
PD 3.0
PD 3.0
Fast Wireless Charging 2.0
Battery Life
At least 24-34 hours (tested)
48 hours with battery saver
Video streaming < 22h
Audio playback < 81 h
Rear Camera
Resolution
50 MP (wide) ƒ/1.85 , 1/1.31″, 1.2 μm, LDAF sensor, OIS, 82° FOV
12 MP (ultrawide) ƒ/2.2, 1.25 μm, 114° FOV, Lens correction
48 MP (telephoto) ƒ/3.5, 1/2″, 0.8 μm, 23.5° FOV
Quad Camera:
108 MP(wide) f/1.8, 1/1.33″, 0.8µm, 83 deg FOV, 24mm
12 MP(ultrawide) f/2.2, 1/2.55″, 1.4µm, 120o FOV, 13mm
10 MP(telephoto), f/2.4, 1/3.24″, 1.22µm, 72mm, 3xOptical Zoom
10 MP(telephoto), f/4.9, 1/3.24″, 1.22µm, 240mm, 10xOptical Zoom
Camera Features
Night Sight
Top Shot
Portrait Mode
Super Res Zoom
Motion autofocus
Live HDR+
Frequent Faces
Dual Exposure Controls
Cinematic Pan
Ultrawide Lens
Portrait Light
Magic Eraser
Motion Mode
Real Tone
Face Unblur
Panorama
Manual white balancing
Locked Folder
– LED flash
– Auto-HDR
– Panorama
– Scene optimizer
– Shot suggestions
– Filter and beauty effects
– Night mode
– Portrait mode
– Food mode
– Tracking auto-focus
– Scan QR codes
– Location tags
– AR Emoji
– SuperSpeed Dual Pixel AF (Ultra-Wide)
– PDAF, OIS (Wide)
– dual-pixel PDAF (telephoto)
– Space Zoom
–>Dual Optical Zoom 3x, 10x
–>Super Resolution Zoom up to 100x
– OIS (Optical Image Stabilization)
– Laser AF
– Format and advanced options (HEIF/Raw copies/UW shape correction)
Video recording
4K: 30/60fps
1080p: 30/60/120/240fps
8K: 24 fps
4K: 30/60fps
1080p: 60 /240fps
720p: 30/960fps
Features:
To be updated
– VDIS (Video Digital Image Stabilization)
– HDR 10+ videos
– Auto HDR
– HEVC format
– Portrait mode
– Director's view mode
– Pro video mode
– Super Slow-Mo Mode
– Slow-motion mode
– Hyperlapse mode
– Digital zoom up to 12x
– High CRI LED Flash
– Tracking AF
– Take 33MP still photos while playing 8K video
– Playback zoom
– Video location tags
Front Camera
Resolution
11.1 MP (ultrawide) ƒ/2.2, 1.22 μm, 94° FOV, Fixed focus
40 MP (wide) f/2.2, 26mm, 1/2.8″, 0.7µm
Video capture:
4K: 30fps
1080p: 30/60fps
4K:30/60fps
1080p:30fps
Features:
To be updated
– Dual video call
– Auto HDR
– Wide-angle for group selfies
– Save selfies as previewed
– Set selfie color tone
– AR Emoji
– OIS
– PDAF
Connectivity
Bluetooth Ver
5.2, A2DP, LE
5.2, A2DP, LE
Wi-Fi Ver
Wi-Fi 802.11 a/b/g/n/ac/6e, dual-band, Wi-Fi Direct, hotspot
Wi-Fi 6e. Wi-Fi 802.11 a/b/g/n/ac/ax 2.4G+5GHz+6GHz, HE160, MIMO, 1024-QAM
Up to 2.4Gbps (Up/Down)
Connector
USB Type-C 3.1
USB Type-C 3.2
GPS
Built‑in GPS, GLONASS, Galileo, QZSS
GPS, GLONASS, Beidou, Galileo
NFC
Yes
Yes
Infra-Red Port
No
Yes
Network
5G, 4G LTE, HSPA, GSM
5G, 4G LTE, HSPA, GSM
Compare Google Pixel 6 Pro and Apple iPhone 13 Pro Max
Tech Specs

Google Pixel 6 Pro 

iPhone 13 Pro Max (5G)

Release Date
19-Oct-21
14-Sep-21
Form Factor
Size
163.9 x 75.9 x 8.9 mm
6.45 x 2.99 x 0.35 in
160.8 x 78.1 x 7.65mm
6.3 x 3.1 x 0.3 in
Weight
210g (7.4 oz)
238g (8.4 oz)
IP Rating
IP68 (6m for 30mins)
IEC standard 60529
IP68 (6m for 30mins)
IEC standard 60529
Material
Front & Back: Corning® Gorilla® Glass Victus™
Aluminum frame
Front: Ceramic shield.
Back: Textured matt glass
Frame: Stainless steel
Colors
Stormy black, cloudy white, sorta sunny
Graphite, gold, silver, sierra blue
Display
Screen Type
LTPO OLED QHD+
Super Retina XDR OLED display
with ProMotion
Screen Size
6.7″ (110.5 cm2)
6.7″  (109.8 cm2)
Resolution
3120 x 1440 pixels, 19.5:9 ratio
512 ppi
2778×1284 pixels, 19.5:9 ratio,
458 ppi
Brightness Max
NA
1000 nits max brightness (typical);
1,200 nits max brightness (HDR)
Refresh Rate
120 Hz, adaptive
120 Hz, adaptive
Screen-to-body
88.8%
87.4%
Contrast Ratio
1,000,000:1
2,000,000:1
Colors
24 bits, or 16 million colors
10 bit, or > 1 billion colors
Features
HDR
High brightness mode
Fingerprint-resistant coating
True Tone
HDR display
Haptic Touch
Fingerprint-resistant oleophobic coating
Support for display of multiple languages and characters simultaneously
Hardware & OS
OS
Android 12
Apple iOS 15
Chipset
Google Tensor (5 nm)
A15 Bionic chip (5nm)
New 16‑core Neural Engine
Processor
Octa-core
2×2.80 GHz Cortex-X1 & 2×2.25 GHz Cortex-A76 & 4×1.80 GHz Cortex-A55
Hexa-core
2×3.22 GHz
4x efficiency processor
GPU
Mali-G78 MP20
Apple GPU (5 cores)
RAM/Storage
12GB/128GB, 12GB/256GB, 12GB/512GB
(LPDDR5/UFS 3.1)
6GB/128GB, 6GB/256GB,
6GB/512GB, 6GB/1TB
(NVMe)
SIM Card
Dual SIM (Nano-SIM and/or eSIM)
Dual SIM (Nano + eSIM)
Dual eSIM support
Expansion Card
No
No
3.5mm Ear Jack
No
No
Security
In-screen fingerprint (Optical)
Face ID
Stylus Support
No
No
Sensors
Accelerometer
Fingerprint Sensor (Optical)
Gyro Sensor
Geomagnetic Sensor
Hall Sensor
Light Sensor
Proximity Sensor
Barometer
Face ID
Accelerometer
LiDAR Scanner
Three-axis gyro
Digital compass
Ambient Light Sensor
Proximity Sensor
Barometer
Battery
Capacity
5003mAh (typ), non-removable.
4,400 mAH. Non-removable.
(16.75 Wh)
Type
Lithium Polymer
Lithium-Ion
Wired Charging
Fast charging 30W
50% in 30 min
Fast charging 20W
50% in 30 min
Wireless Charging
Fast wireless charging 23W
MagSafe charging up to 15W
Qi charging up to 7.5W
Reverse Wireless
Charging
Yes
No
Charging Technology
PD 3.0
PD 2.0
Battery Life
At least 24-34 hours (tested)
48 hours with battery saver
Video streaming < 22 h
Audio playback < 95 h
Rear Camera
Resolution
50 MP (wide) ƒ/1.85 , 1/1.31″, 1.2 μm, LDAF sensor, OIS, 82° FOV
12 MP (ultrawide) ƒ/2.2, 1.25 μm, 114° FOV, Lens correction
48 MP (telephoto) ƒ/3.5, 1/2″, 0.8 μm, 23.5° FOV
12 MP, f/1.5 (wide)
12 MP, f/2.8 (telephoto)
12 MP, f/1.8, 120˚ (ultrawide)
TOF 3D LiDAR scanner (depth)
Camera Features
Night Sight
Top Shot
Portrait Mode
Super Res Zoom
Motion autofocus
Live HDR+
Frequent Faces
Dual Exposure Controls
Cinematic Pan
Ultrawide Lens
Portrait Light
Magic Eraser
Motion Mode
Real Tone
Face Unblur
Panorama
Manual white balancing
Locked Folder
– 3x optical zoom in, 2x optical zoom out;
– 6x optical zoom range
– Digital zoom up to 15x
– Night mode portraits enabled by LiDAR Scanner
– Portrait mode with advanced bokeh and Depth Control
– Portrait Lighting with six effects (Natural, Studio, Contour, Stage, Stage Mono, High‑Key Mono)
– Dual optical image stabilization (Telephoto and Wide)
– Sensor‑shift optical image stabilization (Wide)
– Six‑element lens (Telephoto and Ultra Wide); seven‑element lens (Wide)
– True Tone flash with Slow Sync
– Panorama (up to 63MP)
– Sapphire crystal lens cover
– 100% Focus Pixels (Wide)
– Night mode
– Deep Fusion
– Smart HDR 4
– Photographic Styles
– Macro photography
– Apple ProRAW
– Wide color capture for photos and Live Photos
– Lens correction (Ultra Wide)
– Advanced red‑eye correction
– Photo geotagging
– Auto image stabilization
– Burst mode
– Image formats captured: HEIF and JPEG
Video recording
4K: 30/60fps
1080p: 30/60/120/240fps
4K: 24/25/30/60fps
1080p: 25/30/60fps
720p: 30fps
Features:
 To be updated.
– Cinematic mode for recording videos with shallow depth of field (1080p at 30 fps)
– HDR video recording with Dolby Vision up to 4K at 60 fps
– ProRes video recording up to 4K at 30 fps
(1080p at 30 fps for 128GB storage)*
– Dual optical image stabilisation for video (Telephoto and Wide)
– Sensor‑shift optical image stabilisation for video (Wide)
– 3x optical zoom in, 2x optical zoom out;
6x optical zoom range
– Digital zoom up to 9x
– Audio zoom
– True Tone flash
– QuickTake video
– Slow-motion video support for 1080p at 120 fps or 240 fps
– Time-lapse video with stabilisation
– Night mode Time‑lapse
– Cinematic video stabilisation (4K, 1080p and 720p)
– Continuous autofocus video
– Take 8MP still photos while recording 4K video
– Playback zoom
– Video formats recorded: HEVC and H.264
– Stereo recording
Front Camera
Resolution
11.1 MP (ultrawide) ƒ/2.2, 1.22 μm, 94° FOV, Fixed focus
12 MP, f/2.2
Video capture:
4K: 30fps
1080p: 30/60fps
4K: 24/25/30/60fps
1080p: 25/30/60fps
Features:
To be updated.
– Portrait mode with advanced bokeh and Depth Control
– Portrait Lighting with six effects (Natural, Studio, Contour, Stage, Stage Mono, High‑Key Mono)
– Animoji and Memoji
– Night mode
– Deep Fusion
– Smart HDR 4
– Photographic Styles
– Apple ProRAW
– Cinematic mode for recording videos with shallow depth of field (1080p at 30 fps)
– HDR video recording with Dolby Vision up to 4K at 60 fps
– ProRes video recording up to 4K at 30 fps (1080p at 30 fps for 128GB storage)*
– Slo‑mo video support for 1080p at 120 fps
– Time‑lapse video with stabilization
– Night mode Time‑lapse
– Cinematic video stabilization (4K, 1080p, and 720p)
– QuickTake video
– Wide color capture for photos and Live Photos
– Lens correction
– Retina Flash
– Auto image stabilization
– Burst mode
Connectivity
Bluetooth Ver
5.2, A2DP, LE
5.0, A2DP, LE
Wi-Fi Ver
Wi-Fi 802.11 a/b/g/n/ac/6e, dual-band, Wi-Fi Direct, hotspot
Wi-Fi 802.11 a/b/g/n/ac/ax, dual-band, hotspot.
Connector
USB Type-C 3.1
Lightning
GPS
Built‑in GPS, GLONASS, Galileo, QZSS
Built‑in GPS, GLONASS, Galileo, QZSS and BeiDou
NFC
Yes
Yes with reader mode
Infra-Red Port
No
No
Network
5G, 4G LTE, HSPA, GSM
5G, 4G LTE, HSPA, GSM