The Rocketbook Axis looks like a regular notebook but it is more that that. It is a reusable lightweight notebook that is easy to erase.
It can be easily erased by wiping with supplied cloth (with water)
You can store the notes by using the phone app, take a photo and then upload into your cloud. There appears to be an auto-crop function too.
It should be lighter and thinner than most notebooks as only need a few pages. You only need to add standard page packs (20 of each per pack) such as a ToDo List, Dot Grid, or Graphs, etc.
No wastage of paper.
How does it compare to Note apps in Apple IPad or Microsoft Surface Pro?
The Axis feels and look like a normal notebook.
It is much lighter than a tablet or notebook for taking notes while walking around.
There is no need to worry about battery life.
It does not feel warm, as you would not be writing on the screen.
It should be more natural to write on the sheets than the glass screen.
There is no glare from the screen when writing.
There is no worry of dropping on the floor and damaging The Axis.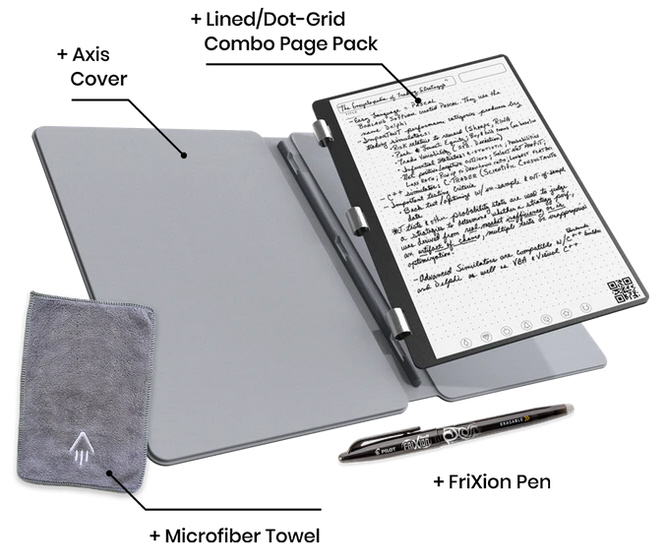 Overall, the design concept of the Axis looks simple, however, it has many advantages over both traditional as well as modern (battery powered system). At this time of the review, there is still 25 days left before the closing date. You may read more or order using the link below:
https://www.kickstarter.com/projects/rocketbook/axis-notebook?ref=section-design-tech-view-more-discovery-p1
Under the purchasing packages, there are options for Beacons and Cloud Cards. However, we could not find any details of these items in the main description. There is also no description of the material used, but we are guessing the writing material should be some form of plastic, and using quick-drying water soluble ink.