---
The Klipsch T5 II True Wireless ANC review the pros and cons of the new earbud, which added a new hybrid Active Noise Cancellation, Bragi gestures and Dirac HD sound to the original Klipsch T5 II True Wireless.
Pros
Cons

Good quality sound for both music and calls, strong bass and treble adjustable using phone app equalizer now with new Dirac HD sound
Bragi gesture features
Improve customization options for interactions
6 sizes of ear-tips for best fit
Wireless charging case

5 hours battery life with ANC is sub-par compared to other recent high-end ranges.
Only IPX4 protection for light water splash and rain.
ANC for low-frequency background sound is not as good as the competition.
There are so many improvements that Klipsch should have given it a new name rather than adding an "ANC" at the back. It could give many buyers and even reviewers the wrong impression that the only difference is the ANC feature, which is not true! Another complaint is that the product name is too long. If we spell the whole name in full, it reads: Klipsch T5 II True Wireless Active Noise Cancellation Earphones
Differences between 2020 and 2021 Klipsch T5 II True Wireless Earbuds
The way the earbuds are named are exactly what the designers are telling us: Klipsch T5II True Wireless + ANC. That is what other reviewers said without looking at the design specifications.
2020 Klipsch T5 II Wireless
2021 Klipsch T5 II Wireless

ANC

Each earbud weighs 5.3 grams with a 50 mAh battery
The casing weighs 89.3 grams with a 360 mAh battery
Each earbud weighs 5.5 grams with a 50 mAh battery
The casing weighs 76.9 grams with a 360 mAh battery
5.0mm Driver with 3-micron diaphragm
New 5.8mm Driver with 3-micron diaphragm
cVc 8.0 Quad-mic (2 mics per earbud)
Six-Mic Beamforming (3 mics per earbud)
No ANC
Hybrid ANC using 4 out of 6 mics
IP67 dust-tight and water-resistant up to 1-meter submersion.
IPX4 protection against water splash and rain.
No Dirac HD sound
Dirac HD sound
No Bragi features
Bragi enabled gesture features
Buy Now: Klipsch T5 II True Wireless ANC …
What are Bragi Features?
The built-in Bragi features allow users to configure the earbuds to respond according to head gestures without even pressing any buttons for a truly hands-free experience.
Accept calls: Nod the head
Reject calls: Shake the head
Mute the call: Cover your mouth with your hand (Just kidding, this does not mute the earbud!)
If someone is talking in front of you, and you happen to nod to answer a call, he may mistake you for the gesture. The handsfree feature would be better when alone and not during a conversation, meeting or even in the restaurant as you may end up ordering the wrong food! There is a new button in the phone app which can be used for controlling under Interactions.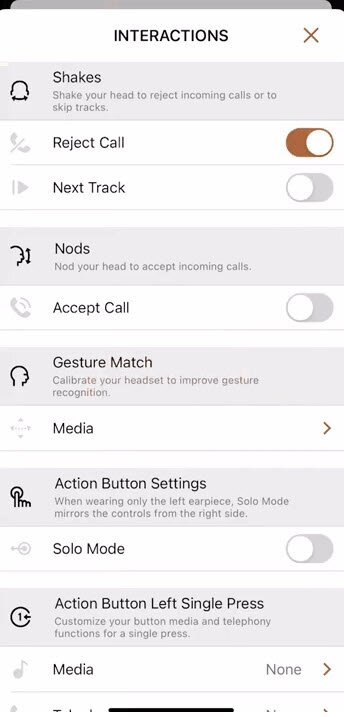 The interactions page offer much more control over the button than the previous Klipsch T5 II True Wireless.
The Bragi also offers additional features such as a noise shield to protect the ears against loud noises while using transparency mode. It also provides voice awareness so that you can hear your own voice during a call.
Buy Now: Klipsch T5 II True Wireless ANC …
Klipsch also has a webpage explaining the new Bragi feature.
Buy Now: Klipsch T5 II True Wireless ANC …
What is Dirac HD sound?
Dirac HD Sound optimizes digital audio, perfecting sound for better listening in any environment. Our patented sound solution technology spans automotive, computer and tablet, headphone, home and professional, mobile and streaming audio.
There are a lot of major brands that use Dirac products, such as BMW, JBL, Onkyo, and Pioneer. For headphone audio, the companies include Philips, Klipsch and RHA. . As this is a Klipsch T5 II True Wireless ANC review, we will not go in-depth into the Dirac, so for more information, please visit www.dirac.com. So far, we are happy with the sound quality of the original T5 II without Dirac HD, so it will only get better in this new model.
Battery Life and IP Rating
Klipsch product designers are too lazy to upgrade the earbud and charging case battery life. The entire form factor did not change much, and all they did was swap several electronics and slapped the term "ANC" at the end of the title and call it a day.
As shown in the comparison table, the battery size remains the same 50 mAh and 360 mAh for the earbuds and charging case respectively. In fact, Klipsch changed everything except for the batteries and casing.
And when we thought they have exactly the same form factor (shape, size, fitting), the Klipsch T5 II True Wireless ANC is only IPX4 rating while previous generations are all IP67. We will be careful when washing the earbuds under the tap, by making sure the water is not too strong.
Review Summary
This Klipsch T5 II True Wireless ANC review shows that it is not just another boring earbud with ANC but a new toy with the advanced Bragi gestures (nodding and shaking) and Dirac HD sound. The drawback is the IPX4 rating and 5 hours battery life with ANC on.
We hope to see Klipsch earbuds will have a bone conduction sensor, more than 8 hours battery life with ANC, and an IP68 rating. Most importantly, they need to increase the size of the electrical contact point for more reliable charging, which we mentioned in a previous review on the Klipsch T5 II TW Sports.