Logitech launched a series of colourful keyboards and mice called the POP Keys and POP Mouse. They brighten up the room, take up minimal desk space, but most importantly are the customisable Emoji keys for quick emotional response.
POP Keys may sound like Pop Culture with all the colours and emojis, but if the next Emoji keyboards are loaded with even more Emoji keys, they should be called EMO Keys – EMO for Emojis or Emoticons.
Buy Logitech Pop Keys | Buy Logitech Pop Mouse

Pros and Cons of Logitech POP Keys[tie_index]Pros and Cons of Logitech POP Keys[/tie_index]
Pros

Cons

Multi-device support up to 3 devices
Dedicated, swappable emoji keys
Long 3 years battery life (AAA)
50million keypress durability
Bluetooth and Logi Bolt dual connectivity

No backlight
Fixed 6-degree tilting angle
Not spill-proof
POP Keys is a colourful mechanical, compact wireless keyboard with swappable emoji keys. The round keycaps with a slightly concaved top face give the keyboard a vintage look, like an old refurbished typewriter in a nice bright colour. And underneath each keycap housed the GX Brown tactile mechanical keys which are generally quiet, and give a tactile bump during key press.

Buy Logitech Pop Keys | Buy Logitech Pop Mouse
There are 3 colour options: daydream mint, blast yellow and heartbreak rose.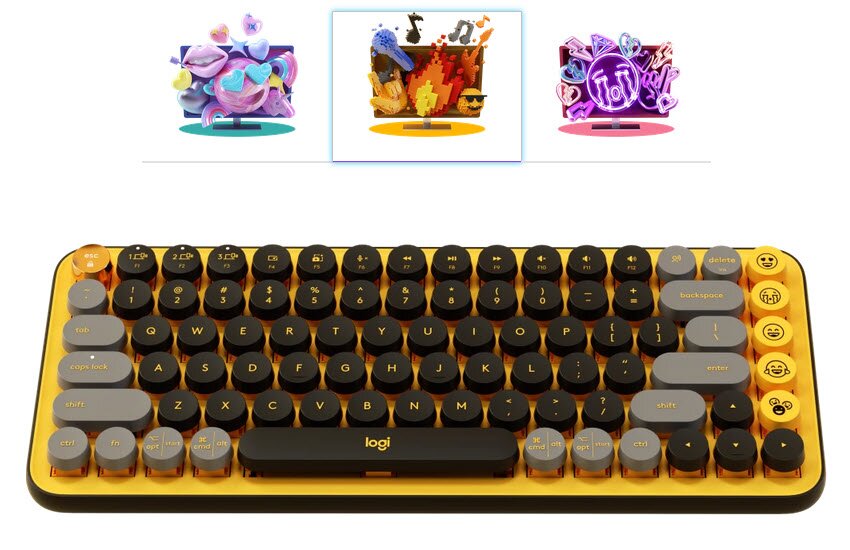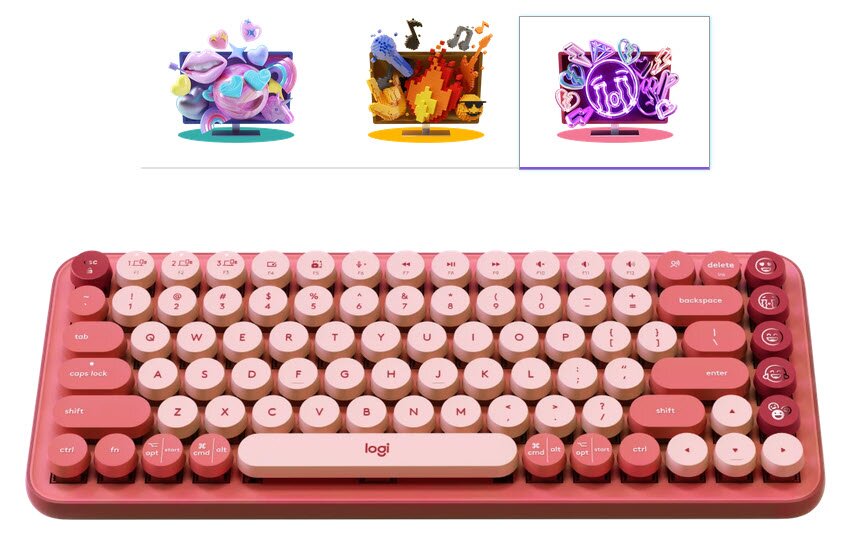 Buy Logitech Pop Keys | Buy Logitech Pop Mouse
Besides the colour options, the main feature is the 4 emoji keys which are swappable, with a total of 8 emojis to choose from. However, these are the only 4 keys that are swappable while the rest are not, so it may not appeal to those users looking at fully swappable keys for hardcore gaming.
Read also: Mojo68 Transparent Programmable Mechanical Keyboard
The key design features to note are highlighted in bold in the table below.
Specs
Details
Layout
Compact, minimalist 75% keyboard
Size
321.2 x 138.5 x 35.4mm
Weight
779 grams
Palmrest
No
Low profile
No
Adjustable Height
Fixed 6°
Colours
Daydream mint, Blast yellow, Heartbreaker rose.
Features
Multi-Devices: 3
Swap and customise Emoji Keys (4 + 4 emoji keys)
Keys
Switch Type
GX Brown (Tactile)
Actuation distance
1.9mm
Average force
50gf
Total travel distance
4mm
Keyswitch Lifespan
50,000,000
Swappable Keys?
Only 4 Emoji keys
Power Supply
Power Source
2x AAA Battery
Battery life
36 months
Connection
Bluetooth, Logi Bolt (secured wireless USB dongle)
Backlighting
No
 
 
Price
$169 SGD (approx. 125 USD)
Buy Logitech Pop Keys | Buy Logitech Pop Mouse
POP mouse[tie_index]POP mouse[/tie_index]
POP mice are designed to go with the POP Keys as they have the same three colour options. They look cute and go with the POP Keys as a complete set of gadgets to brighten up the workplace instantly.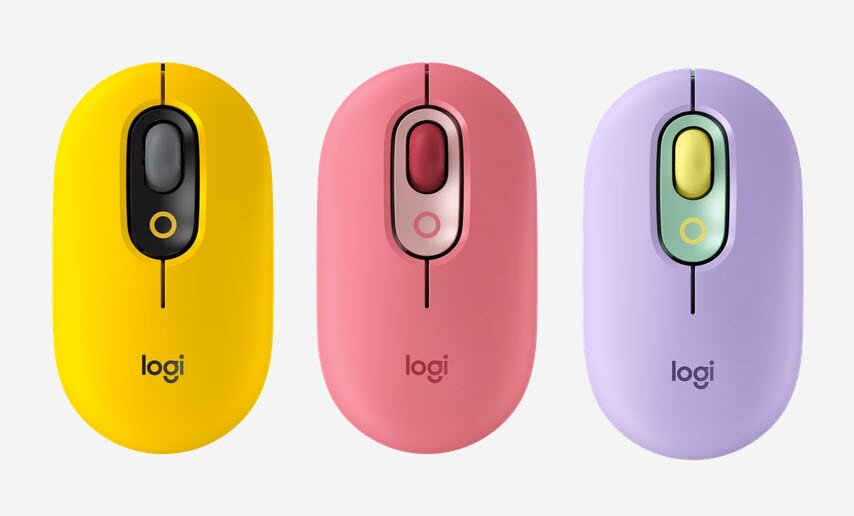 Apart from the colours, the functional design appears to be quite straightforward with no surprises, except for the (surprise!) single emoji button. This function is assigned to the button behind the scroll wheel with a circle, and it can be customised to any emoji. For users who are concerned about functional design, the following points are noteworthy:
Logitech high precision optical tracking mouse with dpi range between 1000-4000.
Size and weight: 104.8 x 59.4 x 35.2mm and 82 grams.
The scroll wheel does not tilt sideways.
The scroll wheel is only clicky, not smooth. However, it has a smart mode that shifts to speed scroll if you flick and spin the wheel fast enough.
Thankfully, the mouse support multi-devices up to 3.
Single AA battery life lasts for 2 years.
Bluetooth and Logi Bolt connectivity support up to 10 meters range.
Price: $54 SGD (approx. 40 USD)