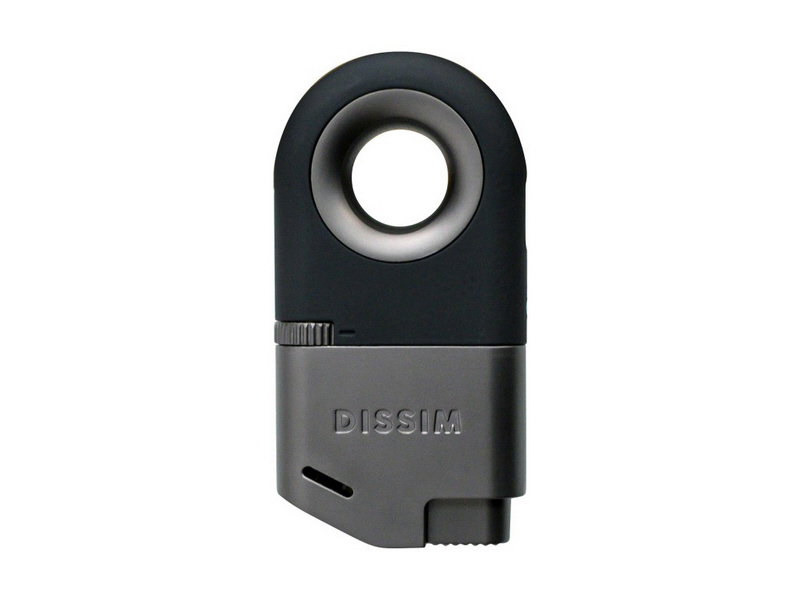 This is a design review of the Dissim Inverted Lighter from a successful Kickstarter Project launched in 2020. It has over 7,000 backers who pledged a total of $333,596, and far exceeded its goal of just $3,200 by over 100 times. It is now sold on Amazon but out of stock with 129 reviews and an aggregate 4 stars rating. However, it is not so popular in Taobao, probably because the users there could find better value options at much lower cost.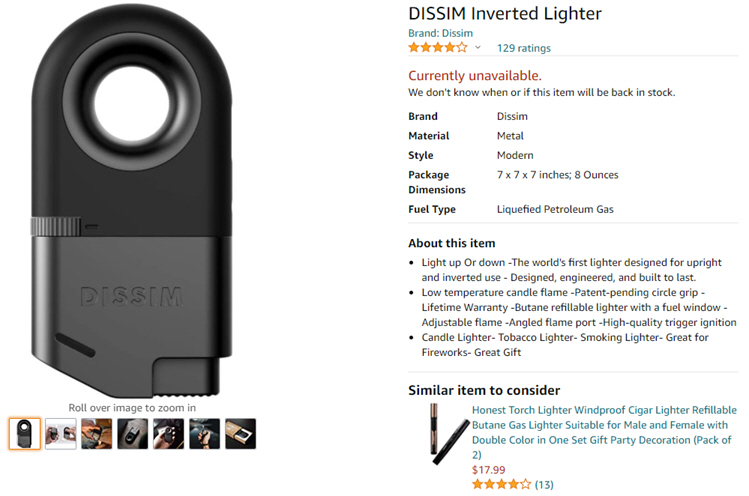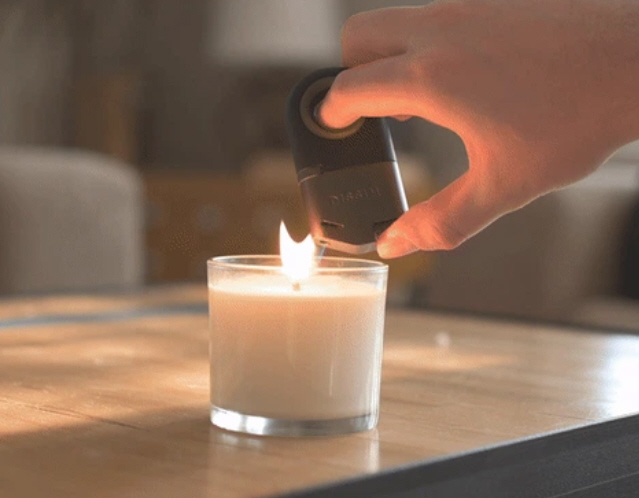 The following key design features are noted in our review:
Main benefit and selling point is that the lighter can be used upright, or inverted. The inverted lighter makes it easier to light up say a candle than a traditional lighter.
Refillable Fuel Tank – The lighter is refueled by regular Butane used by most lighters. This also mean that you do not need to buy disposable plastic lighters that is not green.

Refueling Dissim Inverted Lighter

The size is 89 x 46 x 15mm, and weighs 85 grams (3 oz) and fuel capacity is only 2 grams. In terms of form, it is much larger and heavier than disposable lighters. Overall, it is about half the weight of the lighter smartphones and half the size in length and width. However, it is quite thick at 15mm.
The reason for the larger size mentioned in the above, is due to the patented "circle grip" to facilitate switching from upright to inverted position.

Dissim Lighter Circle Grip
Other design features noteworthy is the angled flame port, flame adjustment ring and fuel window.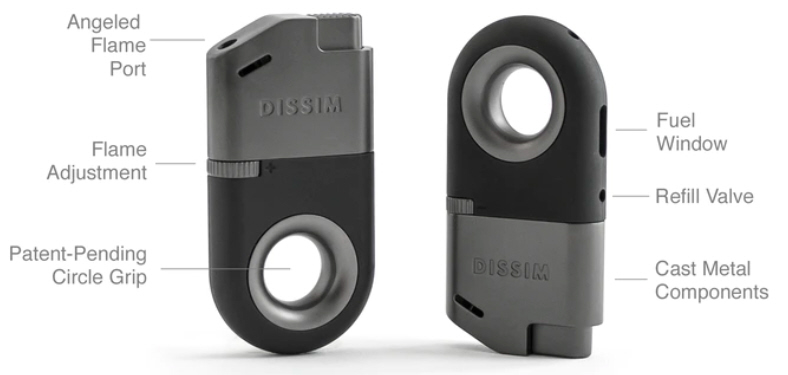 At the price of US$24 (20% off), we assumed the "cast metal" used for the material are stainless steel or non-rust. If cast steel is used with coating, it will eventually subject to wear and rust.
Free water proof case with water resistant zipper, which is required since the lighter is not waterproof.
Dissim offers lifetime warranty which is on par with famous brands like Zippo. Zippo also offers lifetime warranty for manufacturing defects.

Dissim Warranty

Alternatives

At US$30 (before discount), the cost outweighs the benefit which is mainly the inverted light. Although plastic disposable lighter is not green, most people throw them away because they are very cheap and easily replaceable at less than $US 1. Disposable lighters can also be refilled as some of them have refill port below (see photos below). It can be used for a very long time before refill is required. Furthermore, it will not rust and some even come with an extendible arm to light up stove without risk of getting burnt.

That said, the Dissim Inverted Lighter is a high quality and well engineered product. It is designed for those who are demanding the premium market. It is like a cheap car can still get you from point to point, but it can never be compared to the million dollar sports car.

Cheap Extended Lighter
Acquisition
In Feb 2021, PRnews article reported that VPR Brands acquired Dissim. According to the news, VPR Brands acquired the new lighter company assets including all Intellectual property, Trademark and Utility Patent Pending in exchange for an ongoing 5% royalty to the inventor and founders of Dissim.