The 3Dconnexion Keyboard Pro is a specially designed keyboard for computer-aided design (CAD), and comes with 16 additional programmable keys on top of the standard keyboard and Numpad.
Buy 3Dconnexion Keyboard Pro and Numpad Pro
The reason why we picked Logitech MX Keys for comparison is that it is one of the best, full-sized, all-round keyboards for general use including work and play. We have also been using it for 3d modelling including 3dsmax, Solidworks, Inventor and also Adobe Illustrator. Because the Logitech MX Keys is an all-rounder, we are also looking at professional alternatives, meaning a keyboard that is designed for only professional creators and designers like us. This is the 3Dconnexion Keyboard Pro and Numpad Pro.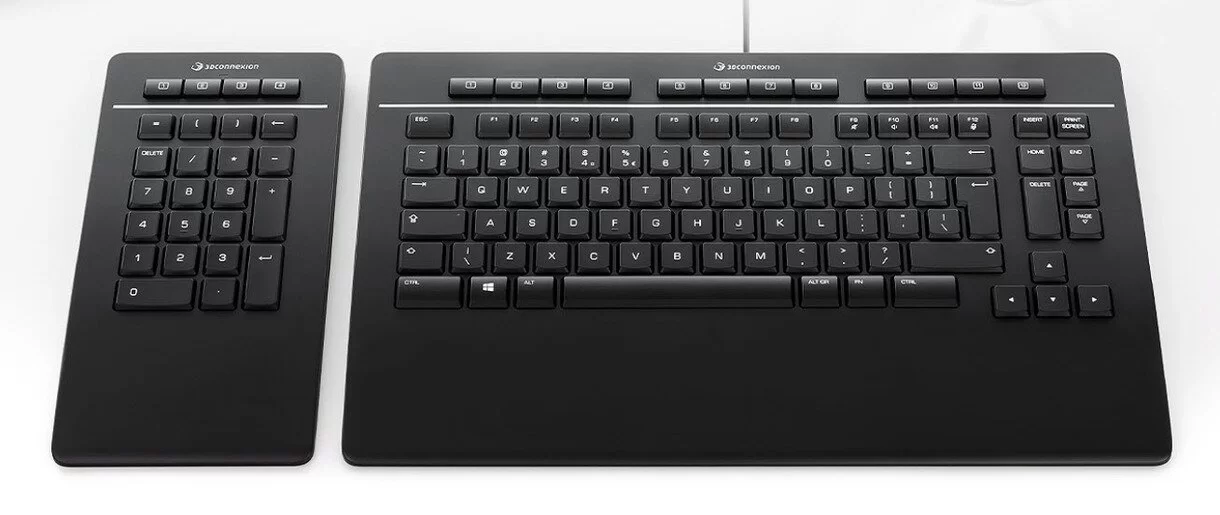 Pros and Cons of 3Dconnexion Keyboard Pro
When we compare 3Dconnexion Keyboard Pro to other professional keyboards, such as the Logitech MX Keys, they lack some advanced features that may not affect CAD design work. We have listed some drawbacks (Cons) for awareness, but they are not major showstoppers.
| | |
| --- | --- |
| Pros | Cons |
| Detachable Numpad Pro | No backlights |
| 16 additional programmable keys on both Keyboard Pro and Numpad Pro | Wrist support is not detachable |
| Support multi-connect to 3Dconnexion accessories via the Keyboard Pro | No multi-connect to computers, tablets or smartphones |
| | The keyboard connects to the computer via wire (USB-A) |
The MX Keys have all the features listed and except that it does not have a detachable Numpad and as many additional programmable keys. We have compiled a table to compare the 3Dconnexion Keyboard Pro vs Logitech MX Keys at the end of this article.
Keyboard Layout Design
The 3Dconnexion Keyboard Pro is slightly larger than a 75% layout keyboard but smaller than the TKL (Ten-Key-Less) design. This is because they re-arranged the navigation keys to the left, but not as tight as a 75% keyboard.
Read more: Keyboard layout design
The "Print-Screen" button is still available, but there are the following oddities:
All the top rows above the F1-F12 keys are additional keys by 3Dconnexion.
The "Scroll Lock", "Pause/Break" and Windows menu keys are missing but not critical
The "Numlock" key appears to be missing on both the keyboard and detached Numpad.
Some users may not notice an additional "| \" key (red highlight) marked out near the bottom left corner. In a normal US keyboard, there is only one next to the parentheses above the "Enter" button. This key is not programmable.
On the Numpad Pro, there are 5 repeated standard keys below the 4 3Dconnexion keys. These keys are programmable.
Even though there is a Function "FN" key, there are no default functions assigned to F1 to F8, which we find is a waste. The FN key works with F9 to F12 (green highlight) for multimedia functions.
Buy 3Dconnexion Keyboard Pro and Numpad Pro
The MX Keys is a full-sized keyboard layout with all the standard keys except for the "Pause/Break". There are 6 additional keys as highlighted below, including 3 for multi-device (computer) connections.

The MX Keys are also programmable but limited to the existing keys, such as F1 to F12 as shown below. Out of the 6 additional keys, only 3 of them are programmable.
In comparison,
3dconnexion Keyboard Pro has 25 programmable keys out of which 16 are additional.
MX Keys have 17 programmable keys, out of which only 3 are additional keys. The remaining 14 keys are existing standard keyboard keys.
Although 3dconnexion Keyboard Pro offers more programmable keys, it does not fully utilise the function keys from F1 to F9 to provide additional functions with the FN keys.
Why must the Numpad always be on the right side?
The reason the Numpad is on the right side of full-sized keyboards is that most people are right-handed (right master hand). However, unlike the mouse that has both right and left-handed versions, it is uncommon to find a "left-handed" keyboard where the Numpad is on the left side.
So in reality, the position of the Numpad does not have as much impact as the mouse because both hands can type numbers equally well.
Advantage of a Detachable Numpad
What we like about the 3Dconnexion keyboard design is the detachable Numpad, which enables us to place it on the left side. The right hand is always on the mouse during CAD design, so the left hand could help with entering dimensions without removing the right hand from the mouse frequently. For tasks that do not require hand-on-the-mouse such as data entry, accounting or excel worksheets, the Numpad Pro can be placed on the side of the master hand.
In fact, the 3Dconnexion Keyboard Pro with a detachable Numpad Pro is an ambidextrous design, which means that it is suitable to use for both left and right-hander.
Buy 3Dconnexion Keyboard Pro and Numpad Pro
Some of you may think that you can buy a standalone Numpad to go with any 75% keyboard, to become an ambidextrous design. That works fine, however, the 3DConnexion Keyboard Pro and Numpad Pro are designed to work seamlessly using the same programming software. On top of that, you get an additional 16 programmable keys that are dedicated to your CAD design.
Wrist Support and Wide Bezel
Although we like the detachable Numpad Pro design, both the Keyboard and Numpad Pro has a ~20mm wide bezel all-around which is taking up unnecessary space. We also wish that the wrist support could be detachable because not everyone needs wrist support or have desk space to spare.
Drafting is not just about the keyboard and the mouse. The drafter or designer will need desk space for reference documents, drawings, or concept photos which they need to refer to while working on the CAD design. There is a growing trend for compact keyboards which is evident by Logitech's latest MX Keys Mini – which is basically a compact, 68% version of the original MX Keys.
In both cases, the MX Keys and MX Keys Mini has only a 7mm bezel. The larger MX Keys also has wrist support but it is detachable.
We opine that there is no winner in this aspect because the winner should have both detachable wrist support and Numpad.
Read also: New Keyboard Buying Guide
MX Keys Mini Alternative Setup
The drawbacks at the beginning of this article mentioned several drawbacks, which we feel do not affect the usage for CAD design. However, some users may prefer to have those features such as multi-computer connections or backlit keys. They may choose the MX Keys instead, and the tradeoff is to forego the additional programmable keys provided by the 3Dconnection Pro.
Logitech has an MX Keys Mini which is a 68% compact keyboard with "Insert" and "Edit" keys included, but omitted the "Print Screen", navigation keys such as Home, End, Page Up and Page Down functions.
Buy Logitech MX Keys Mini
Then you can add a third-party Numpad like the Macally's below.
Check out Macally Bluetooth Numpad
The above custom configuration provides a "detachable" Numpad option to go with the MX Keys Mini, which is not ideal, but it will still work.
Final Thoughts
As 3D CAD designers, we like to see keyboards and mice designed specifically for the CAD design purpose. 3Dconnexion designed the Keyboard Pro with a detachable Numpad for that purpose, by adding 16 programmable keys. We feel that this is definitely a great keyboard for creators and CAD design who may benefit from the extra keys to save valuable time and improve productivity.
The disadvantage is that they have a large bezel and lack the latest features offered by competitors at around the same price range. Even though it may not replace our favourite Logitech MX Keys for generic tasks like writing or surfing, however, we will switch to 3Dconnexion's when dealing with a massive CAD workload. Likewise, some of us also have a separate set of gaming keyboards and mice.
In conclusion, anyone can use anything but professionals always believe there is a right tool for every specific task:
Logitech MX Keys is good for general work and casual play
3Dconnexion Keyboard Pro is for professional creators and designers
Gaming keyboards are for hardcore gamers.
Buy 3Dconnexion Keyboard Pro and Numpad Pro
Also Read:
Best CAD Mouse – 3Dconnexion
Logitech MX Keys Mini vs Microsoft Designer Compact
Detailed Comparison Table For 3Dconnexion Keyboard Pro and Logitech MX Keys
Tech Specs

3Dconnexion Keyboard Pro

3Dconnexion Numpad Pro

Logitech MX Keys 

Physical Design
Layout
75% +
75% +
Full keyboard
Size
366 x 229 x 16mm
14.4 x 9.0 x 0.6 in
114 x 229 x 16mm
4.5 x 9.0 x 0.6 in
430.2 x 131.6 x 20.5mm
16.94×5.18×0.81in
Weight
880g (1.94 lb)
250g (0.55lb)
810g
Adjustable Height
0 and 4.3 degrees
0 and 4.3 degrees
No, fixed 6 degrees
Colours
Matte black
Matte black
Matte black
Palm Rest
Yes, fixed
Yes, fixed
Detachable
Numpad
Detachable
NA
Included
Key Switch Design
Switch 
Scissor
Scissor
Scissor
Keycap 
Chiclet, concave, non-removable
Chiclet, concave, non-removable
Chiclet, concave, non-removable
Keycap Printing
Laser-etched
Laser-etched
Laser-etched
Lightings Design
Backlight
No
No
Yes
Adjustable Brightness
No
No
Yes
Sensors
No
No
Hand proximity sensor
Programming
Programmable keys
– Twelve(12) 3Dconnexion keys
– Four(4) media keys
– Four(4) 3Dconnexion keys
– Five(5) standard keys
17 programmable keys
Macro Mode
Multiple keystroke recording with no delay
Multiple keystroke recording with no delay
Single keystrioke recording
Connectivity
Connection Method(s)
– Fixed Wire USB-A connection to PC
– 3Dconnexion 2.4Ghz wireless to other 3D connexion devices
– 3Dconnexion 2.4Ghz wireless to Keyboard Pro
– Bluetooth connection to the computer
Bluetooth 5.0
Operating Range
NA
10m
10m
Multi-Device 
Connect up to six (6) 3Dconnexion devices including Numpad Pro
NA
Connects to three source devices (computer/ tablets/ smartphones)
Battery Life
Battery Type
None
360 mAh
1500 mAh
Battery Life
NA
6 months
6 – 10 days (Backlit ON)
5 months (Backlit OFF)
On/Off Switch
NA
Yes
Yes
Charging USB Type
NA
USB Type C
USB Type C
Battery Indicator
NA
Yes
Yes
Price and Warranty
Warranty (years)
3 years
3 years
1 year
Price
$129.00
Packaged with keyboard
$99.00