What are the factors that influence the buying decisions for computer keyboards? We have identified the following quick checklist to help get started if you do not have the time to read the details:
Factors
Questionaire
Keyboard layout

Full-sized or compact keyboard?

Type of keycap and switches

Chiclet caps with scissor-switch, or mechanical key switch?

Backlight and battery life

Do you need backlit keyboards?
How long is the battery life?
Does it use a disposable or rechargeable battery?

Wired or wireless connectivity

Bluetooth, wireless or wired keyboard?
Does it use Micro-USB or USB Type-C port?

Multi-device capable

Do you need to connect the keyboard to different devices?

Thin and lightweight

If you need to travel with the keyboard, it needs to be thin and lightweight.

Looks and colours, e.g. vintage design

Looks and colours are personal preferences.

Keypress test

After selecting the right keyboard, we recommend finding a sample and trying out the keys by typing.
Keyboard Layout
Different users will select the keyboard based on their usage requirement, whether it's for office use, school work, gaming, or travelling. They will look at either all or some of the above factors, but there is one most important factor that everybody will most likely specify first, and that is the keyboard layout.
For most general uses such as work and play, the safest keyboard to buy is the full-sized 104-keys US keyboard. The only reason not to buy a full-sized keyboard is to save desk space, and this is where a compact full-sized keyboard comes in. Another option is to buy a smaller keyboard with lesser keys and add a separate Numpad mini keyboard.
Below are examples of the common keyboard layouts. If you notice, different brands will have different key configurations for the smaller keyboard layouts. For example, we have shown 2 and 3 different key configurations for 65% and 60% keyboard, respectively. So it is important to note the "missing keys" and not just look at the keyboard colours, weight or battery life.
We have dedicated an entire article to keyboard layout design reviews.

Type of Keycaps and Switches
The second most important criterion is selecting the type of keys, whether the mechanical or chiclet-style keyboard.
Mechanical Key Switches
Mechanical keyboards are popular for gaming but also for work as well. The key caps usually are taller than chiclet keys, which are relatively flat profile.
Most mechanical keycaps are tall and come with switches with a long travel distance of 4mm, and an actuation distance of 1.9mm. One example is the Logitech GX mechanical switches (see the right diagram below).
Logitech also has low-profile keycaps (see left diagram below), and comes with Logitech GL mechanical switches with a travel distance of only 2.7mm and actuation of 1.5mm. The short travel distance is quite close to the MX Key or Craft keyboard's specification, even though they are different mechanical versus scissor switches.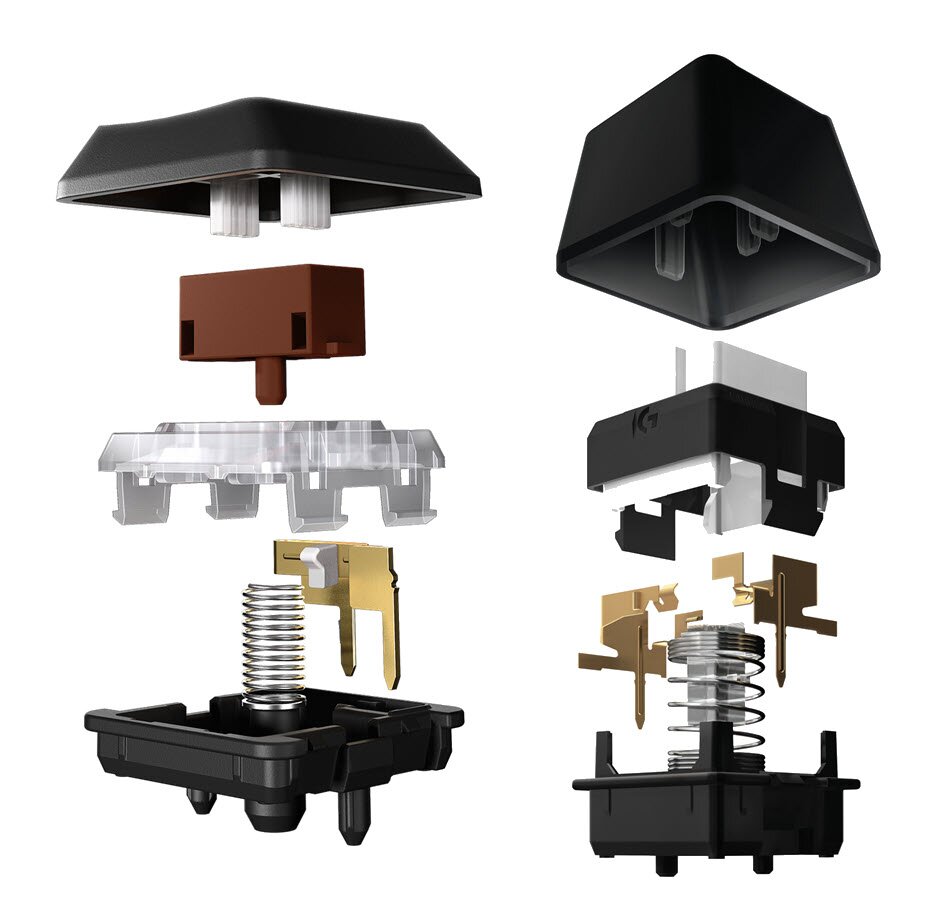 An interesting thing about mechanical keyboards is the replaceable keycaps and the choice of key switches to choose from. Users can easily replace the keycaps by using a separate keycap puller, but the underlying key switches are soldered or hot-swappable depending on the manufacturer. This key switch is the component that gives the clicky sound or tactile feel of a mechanical keyboard.
The following switches are commonly available for selection:
Linear switches go down straight with no clicking sound or bumpy feedback. This is useful for double-tapping in rapid succession, also ideal for MMO and action games. Even though there is no tactile or clicking sound, the actuation point is the same at about mid-way down. This means that you do not have to press down fully to work, but since the actuation does not have any feedback, the tendency is to press down fully. This is where tactile feedback or clicking sound helps.
Tactile switches will provide tactile feedback or a "bump" during actuation, which is typically about half the full travel distance.
Clicky switches will provide an additional clicking sound besides the tactile feedback. This is also the noisiest among the three types of key switches.
Below are the key switches used by Logitech keyboards for quick reference.


Chiclet-style keyboards
Chiclet keycaps are flat and low-profile, and each key appears to sit individually on its own opening on top panel of the keyboard. They are flat and significantly thinner than classic mechanical key caps.

Chiclet keycaps typically have scissor switches and have a travel distance as short as 2mm, while the actuation point is about 1.5mm. The Logitech MX Key is one of the best examples of a low-profile keyboard using chiclet-style keys.
Such keyboards are helpful for both work and play, and the downside is that the keycaps and scissor switches are not removable. However, this has little impact on most users who prefer an out-of-box experience rather than the ability to customize or fiddle with keycaps.
Read also: Mojo68 Transparent Programmable Mechanical Keyboard
Backlight and battery Life
Wireless keyboards with backlit keys are helpful in dim light conditions. In the past, backlist keys started as a typical requirement for most laptop keyboards. In recent years, it has become a popular feature on high-end standalone wireless keyboards, which are portable.
If your plan to move your wireless keyboard around or is likely to use it under dim light conditions (such as a presentation), then a backlit keyboard is essential.
Keyboards with backlit keys normally use rechargeable lithium batteries because of the power consumption. The battery would last a week more or less depending on the usage. Those keyboards without backlit keys could use disposable batteries that can last a very long time and up to 3 years for some models.
Wired or wireless connectivity
In the past, most gaming keyboards require wiring for the lowest latency, but this has changed as brands like Logitech invented technology such as Lightspeed wireless connectivity with low latency when compared to Bluetooth.
The serious gamer may still opt for wired keyboards for peace of mind, however, everybody else would benefit from any Bluetooth 5.0 keyboard. There is no reason to get a wired keyboard for gaming since the price of wireless keyboards has dropped tremendously.
Another sound reason to get a wireless keyboard is the ability to pair and switch connections between multiple devices for some keyboard models.
One thing to look out for USB Type-C connection port on the keyboard, which is increasingly replacing the outdated Micro-USB port.
Multi-Device Capability
If you need to connect the same keyboard to a laptop, desktop computer, and tablet or mobile phone, then you will need to have a keyboard with multiple device connection capabilities such as the Logitech MX Keys. In fact, most Logitech keyboards have multiple-device connection abilities.

Recently, we reviewed and compared the Microsoft Designer Compact Keyboard which also has multiple device capabilities. One thing that they do differently is to use one key instead of 3 keys for the switching of devices, which we like a lot more than Logitech's 3-keys for the same job.