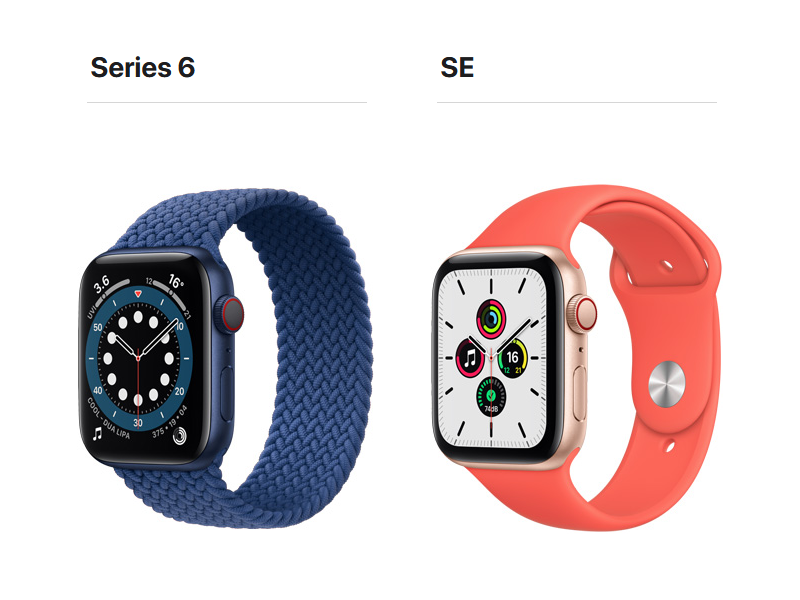 This article looks at the key differences between Apple Watch Series 6 and SE that will affect the decision of buyers' selection.
Price: There is a huge price difference of $170 between the two models, which accounted for the cost of those missing features in SE. Also, a simple math calculation between the cellular and non-cellular price, will show that the "cellular" module in Series 6 is $100, while Apple Watch SE is only $50. We will look deeper into the specs later to find if there is any obvious reason.


| | |
| --- | --- |
| Apple Watch Series 2 | Apple Watch SE |
| $499 ($399 without cellular) | $329 ($279 without cellular) |

Always On Display: We are not even sure why this is such an important feature in Apple Watch. Other brands such as Samsung Active 2 allow users to select between always on display, and raise-to-activate display. These should not be a fixed features on a $300-$500 smart watch, making them not so smart. We feel that this is a reason to reject both models as a smart watch should have both options built in.
| | |
| --- | --- |
| Apple Watch Series 2 | Apple Watch SE |
| Always on Retina Display | Just raise your wrist and the display comes to life instantly |
Materials and Finishes: SE only has Aluminum finishing and 3 colors, silver, space grey and gold, while Series 6 has more colors and material of choice. If the colors and material is important for you, then you may have to buy Series 6 only. However, most users would find the neutral colors (silver or space grey) good enough to pair with the wide range of colorful watch band.
Health and Wellness: Apple Watch SE do not have ECG and Blood Oxygen applications, however, it retains the high and low heart rate notifications, and irregular heart rhythm notification. This could be the reason for the huge price difference between the two models.
Chips: Apple Series 6 uses the latest S6 SiP with 64-bit dual-core processor, which is up to 20 percent faster than S5 on the SE.  Series 6 also has a U1 ultra wideband chip that is missing on the SE, and this feature is useful if you have an iPhone 11 or later.The new Apple‑designed U1 chip uses Ultra Wideband technology for spatial awareness — allowing iPhone 11 to precisely locate other U1‑equipped Apple devices. Think GPS at the scale of your living room. So if you want to share a file with someone using AirDrop, just point your iPhone at theirs and they'll be first on the list.It's like adding another sense to iPhone, and it's going to lead to amazing new capabilities.

With U1 and iOS 13, you can point your iPhone toward someone else's, and AirDrop will prioritize that device so you can share files faster.
Wi-Fi: Apple Series 6 has 802.11b/g/n 2.4GHz and 5GHz, while SE has only 2.4GHz. This could be an issue if you encounter a public router with only 5GHz bandwidth, say in restaurants, etc. We have encountered at least one instance when someone accidentally disabled 2.4GHz on their router. This causes some older devices such as 2.4MHz wireless CCTV to stop communicating.
Among all the key differences, above, the reason we would not purchase the Apple Watch SE version is the lack of always on display option and 5GHz bandwidth support. We feel that these cheap but necessary features should be included in any smartwatch that cost $329 in 2020.
Having compared the differences in key features, we are surprised to see the same "up to 18 hours" battery life for both models. Assuming both uses the same battery, the SE should have a much better battery life over the Series 6 as it does not have always on display and lesser modules. We also assumed those electronic modules "removed" on the SE do not give enough space for a slightly larger battery.