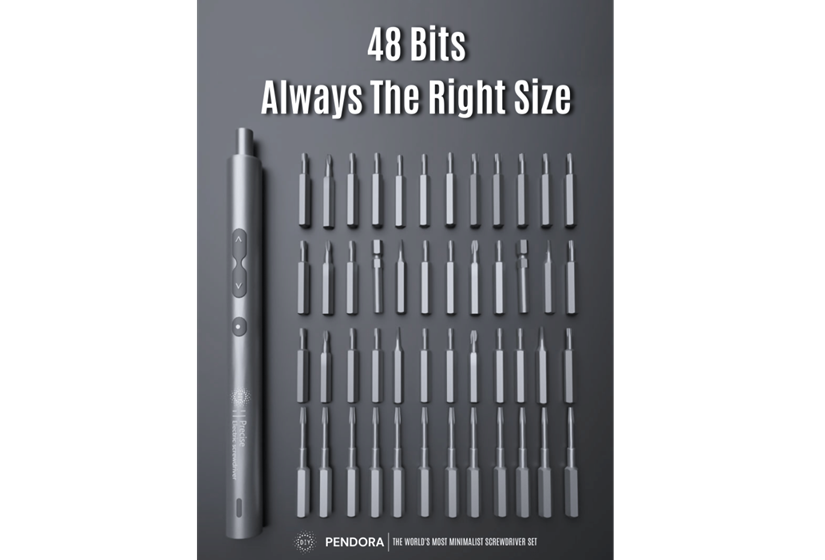 The Pendora 48E is a lightweight, minimalist rechargeable, screwdriver set, currently sold at Indiegogo in an ongoing campaign. Each set contains:
48 high-precision bits
Aluminum alloy case with one-click latch
Simple operation with 3 control buttons
We also found another set that looks similar, the Xiaomi Mijia screwdriver kit, but has different specifications, and it is currently sold in online stores such as Shopee and Amazon.
This article is purely a design review to compare the specs, so we do not comment on why or how the creator place similar-looking (Amazon) product on Indiegogo.
As it turns out, the design looks the same but the specifications are quite different.
Advantages of Pendora 48E:
Overall, Pendora 48E has a better specification based on the following advantages
Overall weight is lighter by 27% (despite Pendora has more screwdriver bits).
Faster charging time of 50mins.
Slimmer screwdriver diameter at 15.8mm.
Lighter screwdriver handle at 53 grams.
The screwdriver handle has LED lights for illumination.
0.35 N.m is 1.75 times higher torque than Xiaomi Mijia's screwdriver
It has twice the number of screw bits, 48 vs 24 bits.
Disadvantages of Pendora 48E:
It is not water-resistant, so there is nothing special about it in this aspect.
The screwdriver handle is longer by almost 21mm.
The overall product size is heavier and bigger, which is acceptable since it has to house 48 bits, which is double the number of bits from Xiaomi Mijia.
Lack of drill bit type markings on the casing (see Xiaomi Mijia's casing design)
The photo below shows that the drill bits for Pendora 48E are stored both on the front and back of the charging case. Each side can house up to 24 bits, making it a total of 48 bits.
Moreover, the following information is missing:
Size of charging/storage case
Charging specification
Drill bit hardness
Warranty information
We strongly recommend the creator add the above information to the campaign essay.
Below is Xiaomi Mijia's screwdriver set, where the drill bits are housed on one side only. Also notice that there are markings on the casing to guide the user on where to place the bits. These markings are missing on the Pendora.
All electronic products must include warranty information.
Review Comments:
The Pendora 48E may look the same but it has better specifications than Xiaomi Mijia screwdrivers.
The advantage of the Xiaomi Mijia is mainly a shorter screwdriver handle at just 159mm, and we like the drill bits markings on their casing.
Below is the full table for comparison.
Specifications
PENDORA 48E Minimalist Screwdriver Set
Xiaomi Mijia Electrical Precision Screwdriver Kit
Product Link
Indiegogo

Shopee

Product Net Weight
 257 grams


353 grams

Charging Case Size
Not Stated

201.8 x 74.2 x 25.2mm

Charging Case Material

Aluminum

Aluminum

Charging Case Connector

USB-C

USB-C

Charging Specification
Not Stated

5V 0.14A

Charging Time
50 mins

160-200min

Screwdriver Handle Size
180×Φ15.8mm
159×Φ16.4mm
Screwdriver Handle Weight

53 grams

59 grams

Screwdriver Material

Aluminum

Aluminum

Screwdriver Battery

350 mAh

350 mAh

LED Lights

Yes

No

Rated Voltage

3.7V DC

3.7V DC

Maximum Torque
(Electrical)
0.35 N.m

0.05 N.m (Gear 1)


0.2 N.m (Gear 2)

Max RPM

200 RPM

200 RPM

Drill Bit Material

S2 Steel

S2 Steel

Drill Bit Hardness
Not Stated

60 HRC

Number of Drillbits
48

Please see below

24

Phillips: PH000, PH00, PH0, PH1
Flathead: SL1.5, SL2.0
Hexagon: H0.7, H0.9, H1.5, H2.0
Triangle: 2.3
W-shaped: W1.5
Y-shaped: Y0.6, Y1
Torx: T2, T3, T4
Torx security: T5H, T6H, T8H, T9H, T10H

Notice
PH0, PH1, SL2.0, T8H, T10H, H2.0 are C4 x 25mm, others are C4 x 28mm

Price
$59
$43