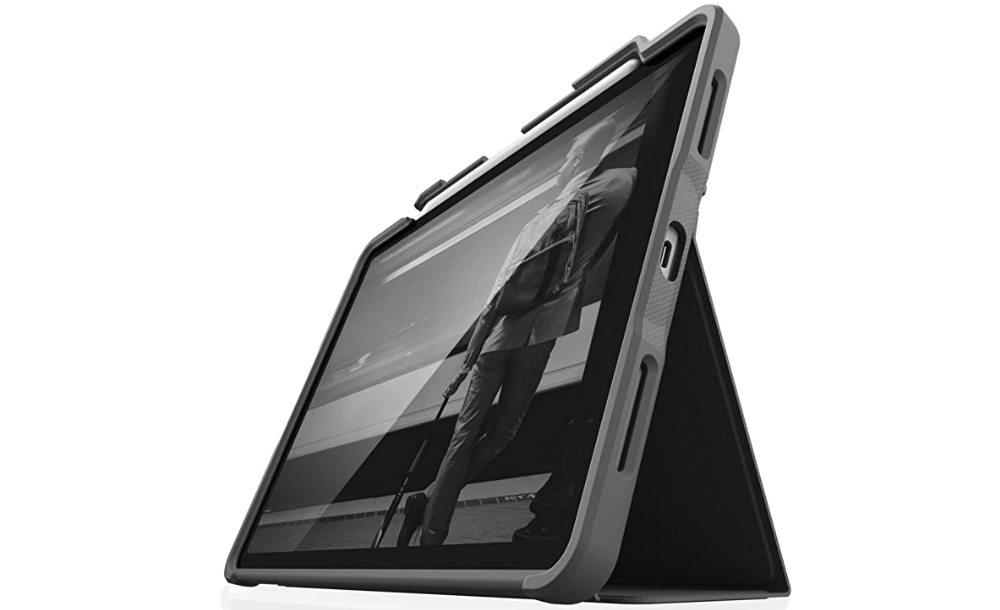 When it comes to IPad casing, you can either choose Apple's original casing designed for the IPad Pro, or look at other innovative alternatives. This is especially for those users who require special design features missing in those originals, such as storage for Apple Pencil, and more protection. 
Pros:
Mil-Spec 810G Drop Tested
Pencil holder with charging
Cons:
Heavy at more than 1 lb for a cover
Only one stable view position (as below)
Review Criteria
#
Criteria
Score
(1-10)
Importance
(0.1-1.0)
DR
Score
1
Weight
3
0.8
2.4
2
Secure pencil storage
10
1.0
10
3
Ease of removing pencil
10
0.7
7
4
Viewing Positions
3
0.8
2.4
5
Mil-Spec Drop Test
10
0.5
5
6
Pencil can charge in storage
10
1.0
10
7
Magnetic locking cover
10
1.0
10
8
As thin as possible
3
0.6
1.8
9
Easy access to all buttons/ports
10
1.0
10
TOTAL SCORE IS 58.6/74 or 79%
1. One of the most important criteria for mobile items is weight. The designer must always keep the weight in check or their product may get overweight! For mobile products, we feel that the need to balance is always very challenging.

We feel that the weight of 474 grams > 1 lb, just for a front and back cover is too heavy. It is about 70% the weight of the IPad Pro 12.9″ which is only 643 grams.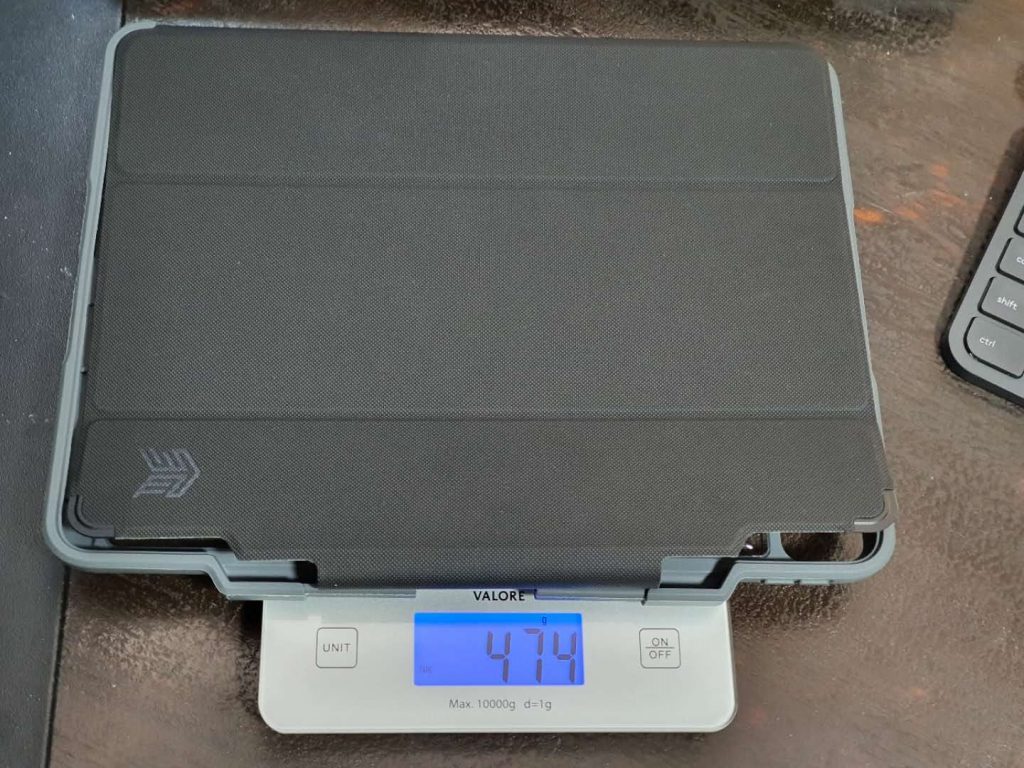 The total weight we measured was over 1,139 grams including the Apple Pencil. Some reviewers may argue that this is almost close to some of the lightest notebooks available, and the notebooks come with a keyboard, full Intel i5 or i7 CPU, and more connection ports such as HDMI, SD Card slots, USB-A etc.
The counter argument could be that, you are not expected to drop the ultra-lightweight notebook as it is unlikely to be ruggedized at the around the same weight. The clam shell form factor is also not as handy as the IPad on the move.
2. Secure pencil storage has an importance rating of 1.0 as it is a key input device for the tablet. It is located on the right of the IPad where it is also charged at the same time. All is good here.
3. The pencil is easy to be removed and the holder seems secured enough to ensure that the pencil do not drop off easily.
4. Next, we spent around 3-4 hours studying the traditional 3-fold design, and the one in front of us from STM.
There is a good reason why we rated the "view position" of STM's cover as 3/10.

The product packaging and advertising videos touted "multiple" viewing position. However, we only find the upright landscape position to be the most stable for this design. But there is more, as explained below.
Try turning it around and lay it with the screen in typing position as shown below. It will work, but it is unstable. If the front of the cover is pressed as shown in the second photo below, the catch area near the magnetic strip will collapse (red circle).
The issue might be improved if the "hook" at the back (see photo below) can be made deeper, so that the cover will not fall out easily.
It is just our opinion that the STM cover design loses out to traditional 3-fold design for 2 reasons:
a) Try to lift up the IPad with the STM cover, the cover will basically unfold and fall off. For traditional 3-fold design, the "triangle stays there. You just move the IPad to another location, and start working without meddling with the covers.
b) Folding the 3-fold cover design is also faster and easier as there is no hooking unless the STM design where you need to ensure it "sits" into the hook at the back. Even when you get used to it, I find it a burden as we need to consciously "ensure" that the hook is in place.
Below is what most 3-fold covers should be able to do if they are properly manufactured in good quality material. It is stable in both view modes, and the triangle structure remains even after lifting it off the table and move to another location. Basically, you forget that it is even there.
5. We paid for an IPad Pro that is 5.9mm thick. There is so much emphasis on the thickness of mobile equipment in the forums, and marketing articles. But many soon forget what they paid for, until they slap on the cover and realised that it does not look so thin anymore.
It is not a big deal for me since I understand Mil-Specs and Drop Test requirement. However, that is the challenge of design – to achieve the desired specs without sacrificing too much of other desired features.
Imagine if all these years, if IPad has been designed without emphasis of going thinner and lighter while packing more power and function with same battery life. We don't think it will sell that well.
Summary
The STM IPad Pro 2020 Rugged Cover is a good quality product that meets our key requirements, especially the apple pencil storage and ruggedness. We hope future design could try to introduce more viewing positions, reduce the weight and size without sacrificing the Mil-Spec qualification.