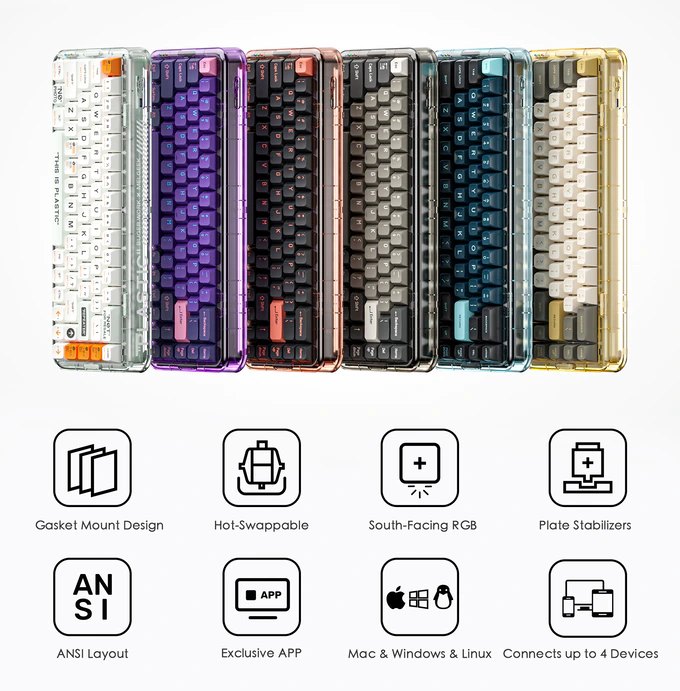 The Mojo68 is a compact, transparent, and programmable mechanical keyboard by MelGeek. The kickstarter campaign has so far received over $660,000 of backing from 2913 backers, with another 10 more days to go. The campaign has exceeded the pledged goal of $50,000 by 1,327% at this time.
The following is a summary of the features without the graphics and videos for easier review:
Form Factor
Form factor: 65% compact keyboard with 68keys
Size: 327x123x47mm
Weight: 1 kg.
Keyboard Casing Colors: 6 styles to choose
Keys and Switches Design
There are 68 hotswap keys and switch. There are 3 types of keycap profiles, and 5 types of switches including White, Silver, Brown, Blue, & Yellow Pro from Gateron to choose from. Users can also select 3 types of switches from TTC.
Gasket Mount


The internal mounting style of a keyboard affects the way it feels and performs. Mojo68 uses an advanced Gasket Mount style. The keyboard plate is surrounded by silicone and Poron, which creates a more comfortable, elastic feel and dampening sound.

Silicon

is used as a shock absorber which prevents the plate from directly contacting other components of the keyboard. This way, it can substantially reduce the vibration created from keystrokes for a comfortable, elastic feel that reduces strain and pressure on your fingers during long typing sessions.

Poron

is also a significant internal layer of Mojo68 and it is used as an extra cushion. Hitting the keys while typing generates a high-energy impact with each keystroke. Poron is an ideal urethane foam for keyboard cushioning, managing the energy and dampening sound at the same time. It also provides a softer press feel and gives Mojo68 excellent performance for long-term use.
Battery
The wireless version has a battery of capacity of 4000 mAH, but there is no battery life provided or whether the battery can be replaced.
APP Control
With APP software, KBTools, users can personalize and re-program all the keys on Mojo68 including function keys, backlights, and shortcut settings. Add layers for extra functions and expand up to 4 FN function keys.
The wired version also supports QMK and you can also program it and explore for more fun!
Backlight
If there is time to spare after swapping all 68 keys and switches, backers can also program all the 68 keys individually as each key can have its own RGB backlight color. Users can also set up the light dimming rhythm with the backlighting to go with their mood.
Connectivity
The Mojo68 is compatible Mac, Windows, IOS, and Android. Linux was not mentioned but if it works with Windows then Linux should work fine as well.
Mojo68 adopts a Tri-mode connection including Bluetooth 5.1, 2.4G USB Wireless, and USB Type-C wired connection.
It allows you to pair with up to 4 devices and switch seamlessly between them to help with multi-tasking and boosting your productivity. The switching keys are FN + 1 or 2 or 3 or 4, you can easily switch from your PC to tablet, cell phone, or laptop. In comparison, Logitech currently allows pairing up to 3 devices only.
Price
The price is $169 for one keyboard with one set of switches, and users can buy separate Number Keypads that cost $69.
Review Conclusion
Overall the functionality seems quite complete and attractive, however, the price seems to be quite high as compared to the existing branded gaming keyboard. It is interesting to see over 2,900 backers willing to pay for an almost 100% plastic keyboard that costs $169 which comes with one year warranty only.
Logitech keyboards offer up to 3 years warranty, while Razer keyboards has 2 years.
Another observation is that the project location is based in Shenzhen, China, which is not included in Kickstarter's policy of allowed countries. Currently, there are 224 projects based in Shenzhen. Maybe they have relaxed the rules, which is good.