The Mazer SuperMini GaN2 Pro is ultra-compact and 60% smaller than a standard PD charger. This is a lightweight and versatile alternative for mobile warriors who are looking at reducing the weight of the gadgets in the bag.
Specifications
Size: 63 x 63 x 31mm (exclude pin adapter)
Weight: 216 grams including 3-pin adapter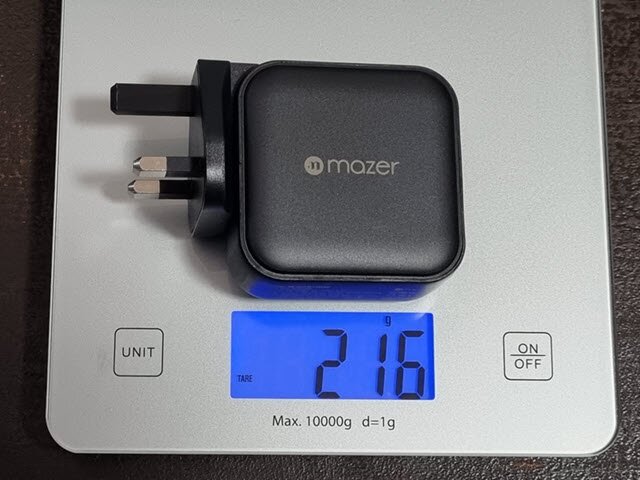 The Mazer charger weighs just around the weight of a 6.7-inch high-end Samsung Galaxy smartphone. The weight and size advantage is similar to most GaN chargers. The Mazer comes with a nylon braided, high quality, 1.5 meters long, USB-C to USB-C cable that weighs just 40 grams.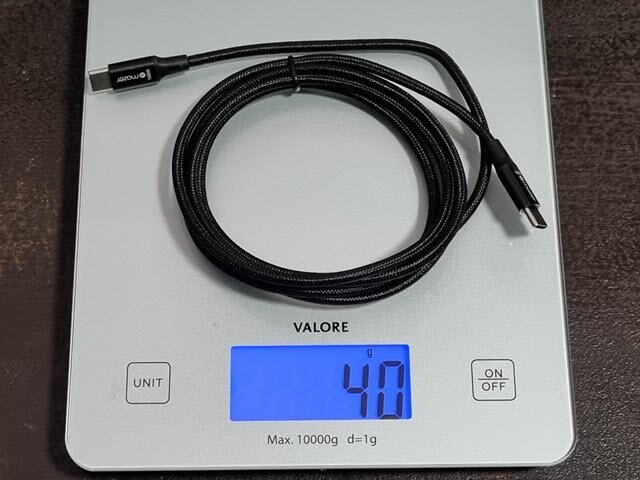 So in total, you get a 100W charger which can power the laptop and mobile devices at just 256 grams. That is impressively lightweight for mobile warriors.
I compared it against a 65W IBM power adapter that I am carrying with my IBM T14 notebook that weighs 369 grams.
IBM 65W Power AdapterSo there is a weight savings of 113 grams for the USD 90 which I paid for the Mazer. However, I get addition 2 USB-C, Power Deliver (PD) ports and 1 USB-A ports for charging other devices. This is definitely worth the money!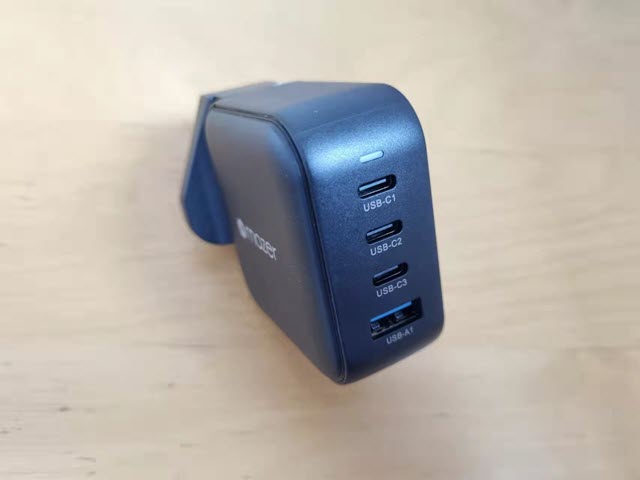 Adapters
There is a Type-A built-in and three (3) add-on Adapters as follows:
Type A: 2-flat pins (USA, Canada, Japan, Central America), built-in and foldable.
Type G: 3-rectangular bars (UK, Hong Kong, Singapore).
Type C: 2-round pins (Europe, Asia, Southern America).
Type I: 2-flat pins (Australia, China, New Zealand).
The photo below shows the Type-G 3-pin adapter mounted over built-in foldable Type-A pins. The add-on adapters are secured when locked over the Type-A, but they are not difficult to remove. All we did was place our thumb on the bottom to give it a slight push and the add-on adapter will pop-out.
Mazer 100W GaN2 Charger Adapters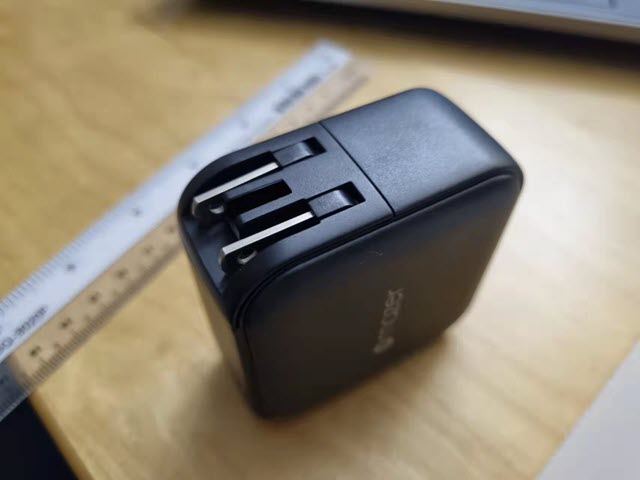 Power Distribution
Just like most 4-port wall chargers, you do not get to use 100W for all 4 ports at the same time. The following is the power distribution for the Mazer 100W GaN2 charger:
| | |
| --- | --- |
| Ports Used Concurrently | Power Output  |
| USB-C1 | 100W |
| USB-C1 + USB-C2: | 65W + 30W |
| USB-C1 + USB-C2 + USB-C3 | 45W + 30W + 20W |
| USB-C1 + USB-C2  + USB-C3 + USB-A (all use) | 45W + 30W + 20W (shared) |
The usage scenario could be:
A single notebook using up 100W power supply.
A 65W-powered notebook and a mobile phone.
A 45W tablet and two mobile phones.
A 45W tablet, a mobile phone and two other lower powered USB devices.
Safety and Reliability[tie_index]Safety and Reliability[/tie_index]
The palm sized compact design comes with 6 protection features:
OCP: Over Current Protection
OVP: Over Voltage Protection
OTP: Over Temperature Protection
OPP: Over Power Protection
SCP: Short Circuit Protection
Overload Protection.
Including a 2-year warranty, Mazer gives us the confidence that the charger is a well-designed and reliable charger. Having said this, the charger is not military-grade proof, so we need to be careful when handling to avoid damages due to exposure to weather.
Summary
The Mazer 100W GaN2 4-port USB-C charger comes with 2 years warranty. It is ultra-compact, lightweight and has a high quality matt finish. Instead of waiting for the 200W GaN chargers from the crowdfunding sites, we prefer to buy the Mazer as it is readily available in the stores and it serves our purpose without bursting our budget.
Read more:
Compare Jabra Evolve2 Earbuds vs Apple AirPods Pro 2