Accessories
Mobile
Travel
Mopoint 4 Ports 100W GaN USB-C Charger
2020 Mopoint world smallest 4 Ports 100W GaN USB-C Charger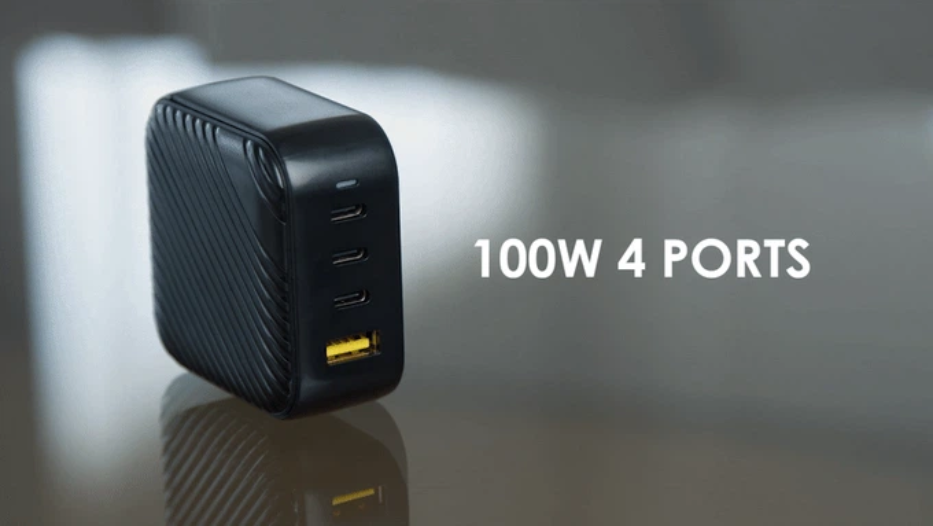 Mopoint has developed the world's smallest 100W GaN charger (total), which comes with three USB-C and one USB-A ports as shown in the diagram below.  It is currently selling on Kickstarter for only $59, and there is already 1,915 backers at this time of writing. This is a very attractive price as compared to the other multiple port chargers in the market, which are normally larger and a lower overall power rating.
Size
Ideally, the key design considerations for all advanced or innovative mobile products and accessories, should be small, lightweight, and also as powerful and reliable as any existing alternatives in the market. While we have yet to test one of these chargers for long term reliability, we believe they have met the desirable specifications in terms of size, weight and power.
Power Output
It can be used to power a notebook that supports PD 3.0 or quick charge for mobile devices QC 3.0. In particular, it is compatible with the latest mobile devices including iPhone 12 and iPad 2020.
This means it should be able to charge at full speed:
One 65W notebook and one iPad 2020 at 30W
One 65W notebook and two iPhones at 18W.
Below shows the maximum power output from each port. The maximum power output for all ports is 100W. Chargeasap Omega 200W GaN Charger has doubled charging capacity.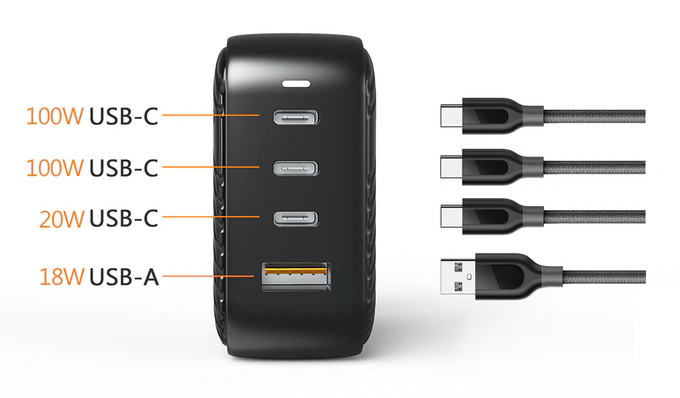 What is GaN
How Mopoint managed to do this is due to the use of GaN (Gallium Nitride) , which is stated to be better than traditional  silicon that have dominated the computing and electronics industry for the past few decades.
"100W utilizes the industry-leading PI GaN Fast INN3379C Power IC to miniaturize components and PCBA. The new Gallium Nitride semiconductor material allows for power devices that can operate at higher voltages and switching frequency which results in high efficiency and powerful chargers."
Is Mopoint the first company to utilise this material? In our research, we found that there are several other alternatives already in the market, however, none of them cater up to 100W of charging capacity.
The next highest in the market currently is the Ravpower 90W 2-Port Wall Charger PD 3.0 GaN Type C. This is also a small charger probably since they also used the GaN, and comes with only two USB-C PD 3.0 port.
Oh, there is another option that comes with 100W is the Aukey, but we are not excited because it has only a single port.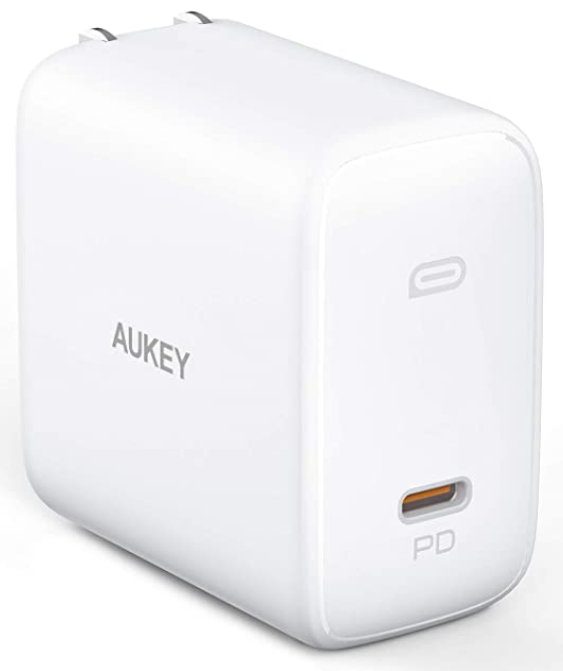 Why are designers so stingy? Knowing electronics, we know the components should not cost much but additional ports would certainly be more attractive to consumers. If the products are just another similar "option" in the market, consumers will only look at the price tag.
In conclusion based on the specifications, the Mopoint 100W GaN charger is definitely the best choice until something better comes along. As with all electronics we are not sure about the reliability but if you like it, you may order the Mopoint 100W Charger at Kickstarter.