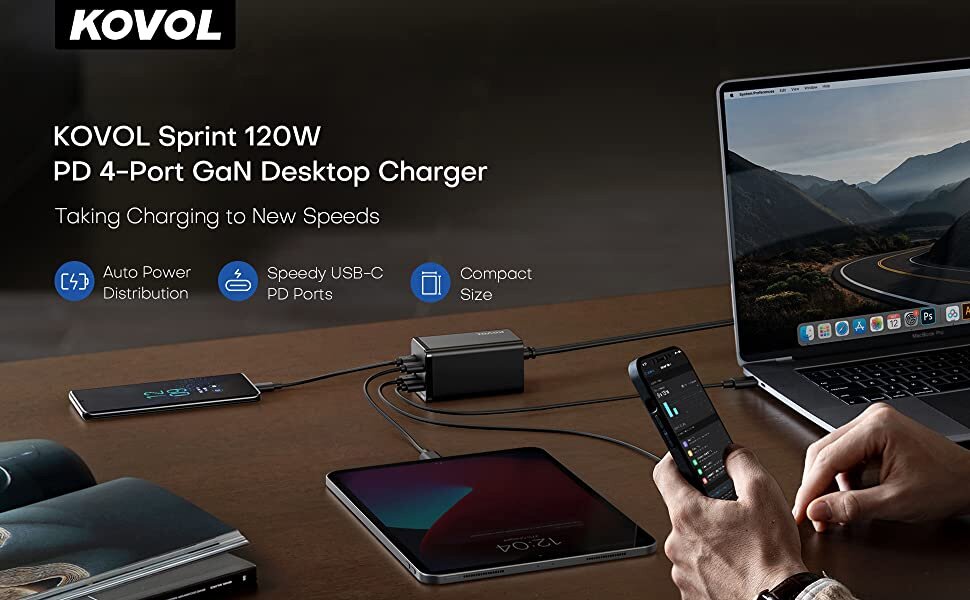 The Kovol Sprint 120W 4-Port GaN Charger is a useful mobile accessory to charge a high-powered laptop and other mobile gadgets at the same time.
Apparently, there has been slow delivery of the 200W GaN Charger, most of which are projects on crowdfunding websites such as Kickstarter and Indiegogo. In the meantime, most of us could make use of the available 120W GaN chargers like the Kovol Sprint to charge laptops, tablets and mobile gadgets concurrently.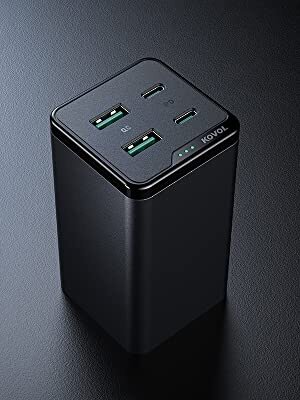 This charger is capable of delivering up to 100W on a single USB-C connection, and supports the following power output distribution:
| | |
| --- | --- |
| Ports Used | Max Power Output |
| Single USB-C | PD 100W max. |
| USB-C + USB-A | PD 100W + QC 18W |
| USB-C + USB-C  | PD 60W + PD 60W |
| USB-A + USB A | QC 18W + QC 18W |
Even though there are 4 ports, the above shows that the charger is optimised to charge with a maximum of 2 ports for maximum 120W power output.
Buy Kovol Sprint 120W GaN Charger
One of the ports of the Kovol Sprint 120W 4-Port GaN Charger must be a USB-C, while the second port can either be a USB-C or USB-A. For a high-powered device such as MacBook Pro 16in, the preferred connection is 1 x USB-C and 1 x USB-A (PD 100W and QC 18W) respectively. Another configuration is to charge two ULV laptops at 60W.
The QC 18W could help speed up the charging for most of the latest phone models, but we feel that 25 or 30W would be ideal for the flagship phone models such as the Samsung Galaxy S21 Plus. Nevertheless, the QC 18W is adequate for daily use or to keep the phone juiced up while you work on the Laptop.
Like most GaN chargers, the power output distribution is reduced further when we begin to connect more devices. However, there are configurations that are still useful depending on the type of device that you have.
| | |
| --- | --- |
| Ports Used | Max Power Output |
| USB-C + USB-A + USB-A | PD 65W + QC 18W + QC 18W |
The above configuration allows you to charge those 65W USB-C powered Laptops which are commonly available at this time of writing. At the same time, it allows two mobile phones to be Quickcharged (QC) at 18W.
| | |
| --- | --- |
| Ports Used | Max Power Output |
| USB-C + USB-C + USB-A | PD 45W + PD 45W + QC 18W |
Using two USB-C allows simultaneous charging of two 45W mobile devices such as smartphones and tablets, while the third USB-A port can still charge a smartphone at a QC 18W.
Ports Used
Max Power Output
All ports used
PD 65W + PD 20W + QC 18W + QC 18W
PD 45W + PD 45W + QC 18W + QC 18W
When 4 ports are used, the output distribution is quite similar to 3 ports in that depending on the power drawn by the device, the remaining ports will be adjusted accordingly.
The size of the Kovol Sprint is 46 x 46 x 85mm, but we do not have any information on the weight at the moment. The shape is not optimal for pockets but it is small enough to be carried around in our bags for everyday travelling.
Last but not least, safety is always one of the most important design considerations when it comes to selecting a charger. According to the manufacturer, Kovol's Q-Pulse technology keeps your devices and surroundings safe with multiple safety features including overcharge, high-temperature and short-circuit protection.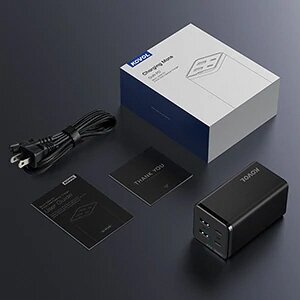 It comes with a 5 feet cable with a US adapter and is covered by 2 years warranty. The warranty is in fact 12 months while another 12 months applies after registering the product.
Buy Kovol Sprint 120W 4-Port GaN Charger
Kovol Official Website
Read also:
Difference Between Quick Charge and Power Delivery Fast Charge
Xiaomi 120W and 200W Charging Coming in 2022
Best 200W GaN Chargers