This review compares the difference between the iPad Mini 6 released in September 2021 and the iPad Mini 5 released in March 2019.
Below are two tables covering the key differences between the two iPad Mini, and another full comparison table further below.
Missing IP Rating and Ceramic Glass Shield[tie_index]Missing IP Rating and Ceramic Glass Shield[/tie_index]
Before looking at the comparison of two tablets, it is noteworthy that the new iPad Mini 6 does not have the following important features found on the larger iPad Pro:
IP68 rating
Ceramic glass shield
Even though the iPad Mini is not a "Pro" series tablet, the way it was presented in the Apple Event shows that the design intent is a very handy, in-the-pocket, tablet at work, indoors and outdoors. The decision to leave out IP68 and the Ceramic Glass Shield is probably due to cost, however, they should then create an iPad Mini Pro instead.
Visible Differences[tie_index]Visible Differences[/tie_index]
The most visible difference is are the sharper, rectangular edges like the iPad Pro, which allow the Apple Pencil to clip on via magnetic catch. All previous iPad Mini models have rounded edges on 4 sides.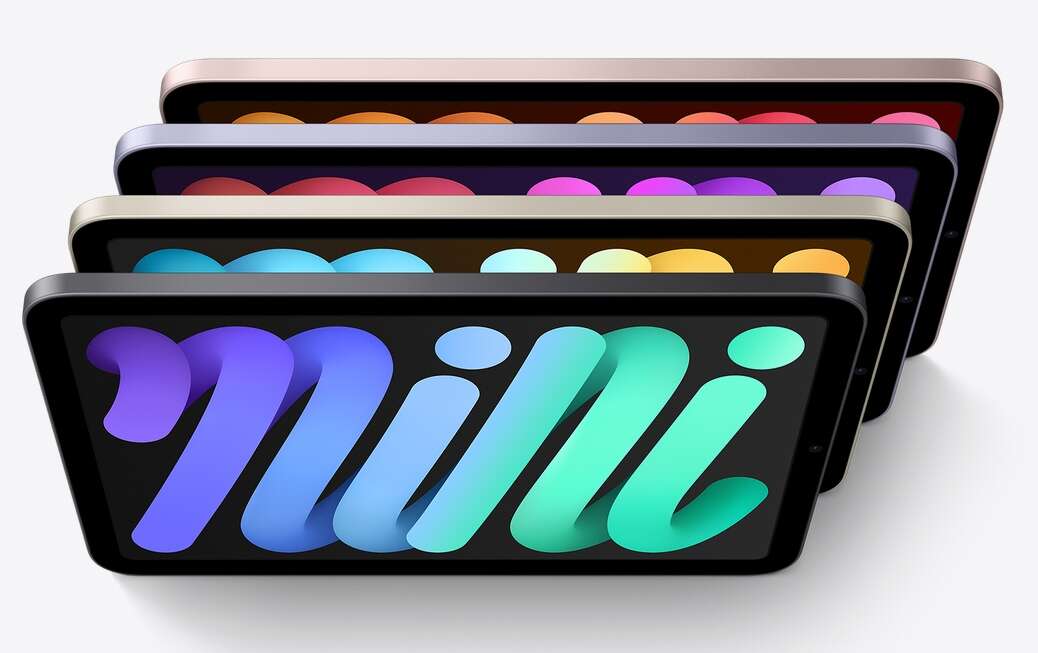 Another visible change is much smaller but nonetheless very important and noticeable, which is the USB-C port at the bottom of the iPad Mini 6. This enables a higher data transfer rate and higher charging power, and the USB-C cables are also more widely used today.
There is no Face ID, but Touch ID will remain and is via the power button at the top of the iPad Mini 6.
Apart from these external differences, the rest of the differences are self-explanatory based on the comparison table below, such as Wi-Fi 6, camera upgrades, and processors.
Table 1: Key Differences Between iPad Mini 6 and 5[tie_index]Key Differences Between iPad Mini 6 and 5[/tie_index]
Tech Specs
Apple iPad Mini 6 (2021)
Apple iPad Mini 5 (2019)
Release Date
14 Sep 2021
18 Mar 2019
Dimensions
195.4 x 134.8 x 6.3 mm
7.7 x 5.3 x 0.24 in
203.2 x 134.8 x 6.1 mm
8 x 5.3 x 0.24 in
Weight
Wi-Fi: 293g (10.3oz)
Wi-Fi+Cellular: 297g (10.5oz)
Wi-Fi: 300.5g (10.6oz)
Wi-Fi+Cellular: 308.2g (10.9oz)
IP Rating

No

No

Operating System
iPadOS (13.x, 12.x)
iPadOS 14
System chip
Apple A15 Bionic
16-core Neural Engine
Apple A12 Bionic (7nm)
Neural Engine
Processor
Hexa-core
Hexa-core
2×2.5 GHz Vortex
4×1.6 GHz Tempest
GPU
5-Core Apple GPU
4-Core Apple GPU
RAM/Storage
64GB
256GB
3GB/64GB
3GB/256GB
Stylus Support
Up to Apple Pencil 2
Apple Pencil 1 only
Screen Size
8.3in
7.9in
Resolution
2266 x 1488 pixels
1.52:1 aspect ratio 326 PPI
2048 x 1536px (QXGA)
4:3 aspect ratio, 326 PPI
Screen-to-body
82% (estimated)
70.60%
Rear camera Specs
12MP, f/1.8
8MP, f/2.4
Video recording
4K: 24/25/30/60 fps
1080p: 25/30/60 fps
720p: 30 fps
1080p
Slo-mo: 240 fps
Front Camera Specs
12MP, f/2.3, 122deg FOV
(Ultra-wide)
7MP, f/2.2
Video Recording
1080p: 25/30/60 fps
1080p: 30fps
Cellular Network
GSM / HSPA / LTE / 5G
GSM / HSPA / LTE
Wi-Fi
Wi-Fi 802.11 a/b/g/n/ac/ax (Wi-Fi 6)
dual-band, hotspot
Wi-Fi 802.11 a/b/g/n/ac
dual-band, hotspot
Connector
USB-C
Magnetic
Lightning
USB 2.0
Battery Capacity
5124 mAh (19.3 Wh)
5124 mAh (19.1 Wh)
Wired Charging
20W standard
12W (5.2V/2.4A) standard
18W (9V/2A or 5V/3A) max
The following is the full comparison table with most of the specifications, and separated into different sections.
Table 2: Full Comparison Table[tie_index]Full Comparison Table[/tie_index]
Tech Specs
Apple iPad Mini 6 (2021)
Apple iPad Mini 5 (2019)
Release Date
14 Sep 2021
18 Mar 2019
Form Factor
Dimensions
195.4 x 134.8 x 6.3 mm
7.7 x 5.3 x 0.24 in
203.2 x 134.8 x 6.1 mm
8 x 5.3 x 0.24 in
Weight
Wi-Fi: 293g (10.3oz)
Wi-Fi+Cellular: 297g (10.5oz)
Wi-Fi: 300.5g (10.6oz)
Wi-Fi+Cellular: 308.2g (10.9oz)
Glass
Scratch-resistant glass, oleophobic coating
Scratch-resistant glass, oleophobic coating
Materials
Back: Aluminum
Back: Aluminum
Colors
Space gray, pink, purple, starlight
Space gray, silver, gold
Hardware & OS
Operating System
iPadOS (13.x, 12.x)
iPadOS 14
System chip
Apple A15 Bionic
16-core Neural Engine
Apple A12 Bionic (7nm)
Neural Engine
Processor
Hexa-core
Hexa-core
2×2.5 GHz Vortex
4×1.6 GHz Tempest
GPU
5-Core Apple GPU
4-Core Apple GPU
RAM/Storage
64GB
256GB
3GB/64GB
3GB/256GB
Storage expansion
No
No
Sensors
Touch ID (Top button)
Three-Axis Gyro
Accelerometer
Barometer
Ambient light sensor
Touch ID (button)
Gyro
Accelerometer
Compass
Ambient light sensor
Speakers
4 stereo speakers
Stereo speakers
3.5mm Earjack
No
Yes
Stylus Support
Up to Apple Pencil 2
Apple Pencil 1 only
Microphone
2 mics
2 mics
Display
Screen Type
IPS LED-Backlit Multi-Touch
IPS LED-Backlit Multi-Touch
Screen Size
8.3in
7.9in
Resolution
2266 x 1488 pixels
1.52:1 aspect ratio 326 PPI
2048 x 1536px (QXGA)
4:3 aspect ratio, 326 PPI
Screen-to-body
82%
70.60%
Refresh Rate
120 Hz
120 Hz
Brightness
500 nits
500 nits
Contrast
NA
NA
Color Gamut
DCI-P3
DCI-P3
Features
Anti-reflective coating, fingerprint-resistant oleophobic coating, true tone display, 1.8% reflectivity.
Anti-reflective coating, fingerprint-resistant oleophobic coating, true tone display, 1.8% reflectivity.
Rear Camera
Rear camera Specs
12MP, f/1.8
8MP, f/2.4
Camera Features
Digital zoom up to 5x
Five-element lens
Quad-LED True Tone flash
Autofocus with Focus Pixels
Panorama (up to 63MP)
Smart HDR 3
Wide colour capture for photos and Live Photos
Advanced red-eye correction
Photo geotagging
Auto image stabilisation
Burst mode
Image formats captured: HEIF and JPEG
Five-element lens
Hybrid IR filter
Backside illumination
Live Photos
Wide color capture for all photos
Autofocus
Panorama (up to 43 MP)
HDR for photos
Exposure control
Burst mode
Auto image stabilization
Photo geotagging
Tap to focus
Timer mode
Video recording
4K: 24/25/30/60 fps
1080p: 25/30/60 fps
720p: 30 fps
1080p
Slo-mo: 240 fps
Video Features
Quad-LED True Tone flash
Slow-motion video support for 1080p at 120 fps or 240 fps
Time-lapse video with stabilisation
Extended dynamic range for video up to 30 fps
Cinematic video stabilisation (4K, 1080p and 720p)
Continuous autofocus video
Playback zoom
Video formats recorded: HEVC and H.264
Time‑lapse video with stabilization
Video image stabilization
3x video zoom
Video geotagging
Front Camera
Front Camera Specs
12MP, f/2.3, 122deg FOV
(Ultra-wide)
7MP, f/2.2
Video Recording
1080p: 25/30/60 fps
1080p: 30fps
Features
Smart HDR 3
Time-lapse video with stabilisation
Extended dynamic range for video up to 30 fps
Cinematic video stabilisation (1080p and 720p)
Wide colour capture for photos and Live Photos
Lens correction
Retina Flash
Auto image stabilisation
Burst mode
Retina Flash
Wide color capture for photos and Live Photos
Auto HDR for photos and videos
Backside illumination
Burst mode
Exposure control
Timer mode
Connectivity
SIM Type
Nano SIM, eSIM
Nano SIM, eSIM
Cellular Network
GSM / HSPA / LTE / 5G
GSM / HSPA / LTE
Wi-Fi
Scratch-resistant glass, oleophobic coating
Wi-Fi 802.11 a/b/g/n/ac
dual-band, hotspot
Bluetooth
5.0, A2DP, LE
5.0, A2DP, LE
GPS
A-GPS, GLONASS, GALILEO
A-GPS, GLONASS, GALILEO
NFC
No
No
Radio
No
No
Infrared Port
No
No
Connector
USB-C
Magnetic
Lightning
USB 2.0
Battery
Battery Capacity
5124 mAh (19.3 Wh)
5124 mAh (19.1 Wh)
Battery Type
Li -Ion, non-removable
Li -Ion, non-removable
Battery Life
Up to 10h
Up to 10h
Charging Time
Under 2h
2-3 hours
Wired Charging
20W standard
12W (5.2V/2.4A) standard
18W (9V/2A or 5V/3A) max
Wireless Charging
No
No
Features
No
No