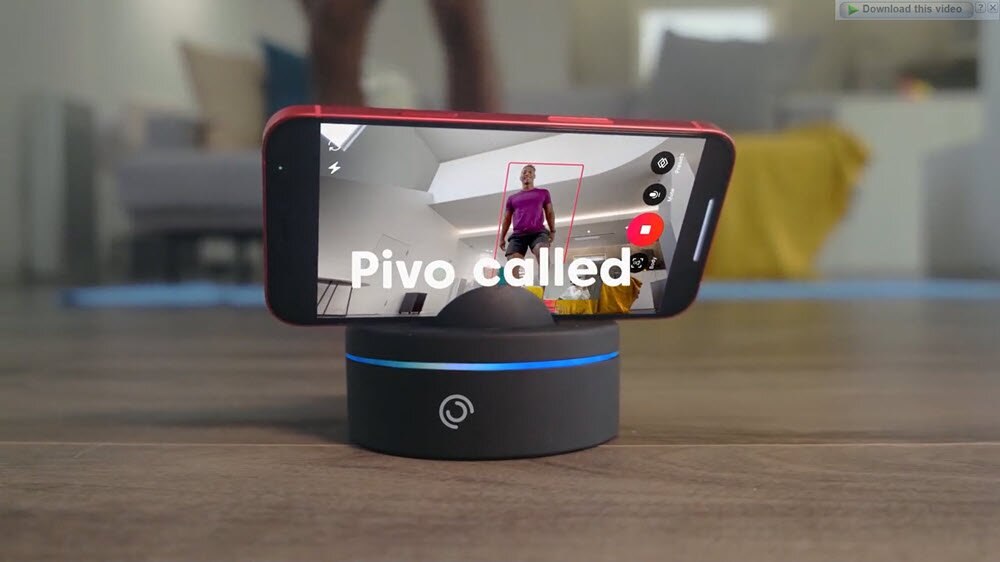 ---
The Pivo Pod X review the latest automatic video tracking mounting for smartphone cameras, which comes with new advanced cinematic and composition AI features, and longer battery life.
Pros and Cons
Below are the key features and there are minor drawbacks that may not concern all users but are listed down just for your information.
Pros
Cons

Fast motion tracking using cinematic AI
Adjusts the frame, angle, lighting, focus automatically using composition AI
Candid camera mode
Support tripod mount with 1/4″ screw
Long battery life
USB-C charging connector
Separate mic with 60m range, works with previous Pods

It may not fit some phone with a thick phone case
Works only with smartphones with iOS and Android, and not tablets or any (real) cameras.
Some may find 250 grams to be heavy.
No IP rating (weather protection) for outdoor use.
Remote control from previous Pods cannot work with the new Pod X.
The full retail price of $355 is very expensive.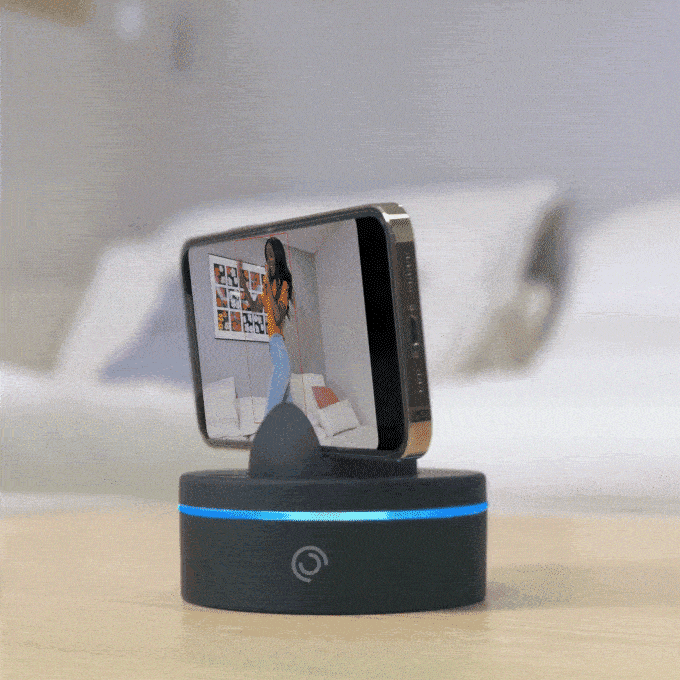 Highlights of Design Review
We reviewed the design of the prototype Pivo X and find that the designers are knowledgeable, with good attention to detail which makes the product capable and promising. There is a good chance that such a gadget will have widespread use since almost everybody has a smartphone.
Motion Tracking and AI
The tracking method is performed using image tracking. Optronics (optical electronics) tracking or image tracking has evolved over the years from expensive bulky designs for military uses to relatively affordable pocket-sized gadgets used by consumers.
One of the key challenges of motion tracking is the radial speed (rotation) which is determined by a moving object from left to right. The close the object, the faster is the rotational speed and hence more difficult for the image tracking to follow.
In the photo below, the Pivo X's cinematic AI feature is able to keep the runner within and centred on the frame. This is impressive as it combines the smartphone processing speed and data transfer to synchronise with the Pivo X turntable to maintain a lock-on the moving object. That said, we suspect that the design would only benefit newer smartphones with better and faster hardware for both the phone and built-in camera.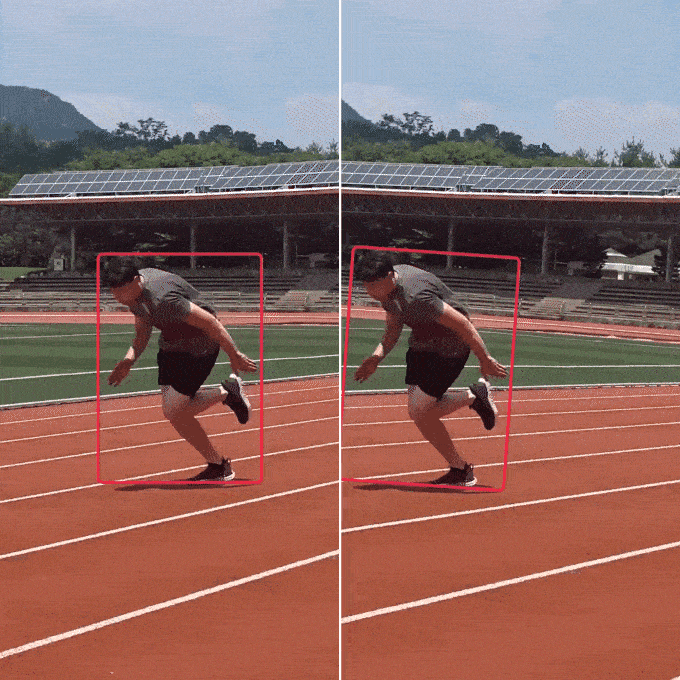 Object Size and Distance
Besides the rotational tracking speed for fast-moving objects, another question is how far or how small can the system still track the object. The app can only track what it can "see", basically it must be able to distinguish the image from the background, and this will be affected by image resolution, lighting and contrast.
In this regard, it may be hard to track a soldier wearing a camouflaged uniform running against a forest background.
The creator recommended the tracked person, animal or object must cover at least 10% of the screen size. The smoothness of the tracking also depends on the smartphone camera specs, lighting and object speed. In comparison, a military-grade image target tracker could offer to track even smaller objects, but require better hardware beyond the scope of discussion in this article.
Mounting Options
Currently, the Pivo X has phone apps to support iOS and Android smartphones, and it does not support dedicated digital or DSLR cameras. One user feedback on the previous Pivo Pod is that the mounting does not fit smartphones with thick phone covers such as the Otterbox case. However, Pivo has a specially designed mounting for thicker using the clamping method. Below is a photo of the Smart Mount ($29 USD) with the older Pivo Pods.
The Pivo can be mounted to any tripod with the 1/4″ universal screw threading, but Pivo also sells their own foldable aluminium tripod which can extend up to 1.6m (5′ 3″ tall). Due to the way it is designed with a small base triangle, the recommended weight is 1kg or 2.2lbs. The Pivo X (250 grams) with the bigger iPhone 13 Pro Max or Samsung S21 Ultra, will not exceed 500grams in weight. Even though the tripod could handle a heavier load, it may feel top-heavy and less stable.
Difference between Pivo Pod X and Pivo Pod Red/Silver
Tech Specs

Pivo X
Pivo Pod
Size (diameter x height)
9.5×6.65cm
6.3×7.3cm
Weight
250g
176g
Battery
1400mAh
500mAh
Battery life
All-day
10 hours (user feedback)
Charging Connector
USB-C
Micro-USB
Bluetooth Version
5.1
4
Max. Load
450g
1kg
Accessories
Remote Control (Pod X only)
Travel Case
Pivo Mic
Remote Control (Pods Red/Silver)
Travel Case
Pivo Mic
Pivo Mic
Range
60m range
Attachment
Clip attachment
Features
Wind/noise cancelling
Weight
15 grams
In the above table showing the difference between the Pivo Pod X vs existing Pivo Red / Silver, there are several significant improvements such as USB Type-C ports, bigger battery, latest Bluetooth 5.1. The max load is lowered for some unknown reason but we are not expecting smartphones to weigh up to 450 rams.
The previous Pivo Pod only has a 500 mAh battery that user feedback has a working 10 hours battery life. The Pod X has closed to 3 times the battery life at 1400mAh but weighs just 74 grams heavier. Nevertheless, some may still feel that 250 grams are an additional weight to carry around as our bags are filled with gadgets, chargers and batteries.
One biggest disadvantage is that all the Pivo Pod models do not have any IP rating, which means they are not certified against dust and water. Any outdoor gadgets should have at least an IPX4 for protection against water splash and sweat.
Users of the previous Pod Red or Silver might want to know that the new remote controls may look similar but they are not compatible with the new Pod X and vice versa.
Review Summary
The Pivo Pod X is a powerful companion for influencers, creators or anyone who like to make motion tracking videos by themselves. However, we feel that the retail price of $355 is too expensive for a gadget that is not even weatherproof while most of the videos are showing outdoor shots.
Furthermore, at that price, there is no indication of the warranty period which we feel they should provide at least 2 years since it does not have any certified weatherproof design.
Source: Kickstarter – Pivo Pod X