---
The JBL Partybox 710 is a powerful yet portable and IPX4 splashproof 800W RMS speaker with sound coming from a dual set of bass-rich woofers and tweeters. The size is 905x436x399mm and weighs 27.8kg, and comes with a retractable handle and two big wheels for portability. Due to its demanding power output, the JBL Partybox 710 does not have any built-in battery and is solely powered by AC power.
JBL.com just announced that the JBL Partybox 710 has just been launched but our search shows the product only found on the UK JBL website.
Pros

Cons

800W powerful bass with two 8-inch woofers and two 2.75 inch tweeters
Many connectivity options, including Bluetooth, USB, 3.5mm, guitar, microphones, and even pairing additional Partybox.
Portable with a fixed handle and wheels.

Lack of a dedicated remote control for basic functions such as volume, play/pause or skip tracks.
IPX4 is very basic coverage for light rain and water splash, and so is inadequate. We prefer at least IP56 for such outdoor equipment, for limited protection against dust, and also allow the use water hose to quickly wash the speaker. This will be better for beach parties.
Lack of modern USB Type-C connectors
Powering Up[tie_index]Powering Up[/tie_index]
There is only one way to power up and that is the AC power cable (100-240V). The connector on the JBL Partybox 710 includes a cover to protect against water, however, users should be careful not to keep this part dry during operation.
Top Panel[tie_index]Top Panel[/tie_index]
Connection to Bluetooth is fairly straightforward by pressing the button to initiate pairing with another device within 10 meters, such as a mobile phone.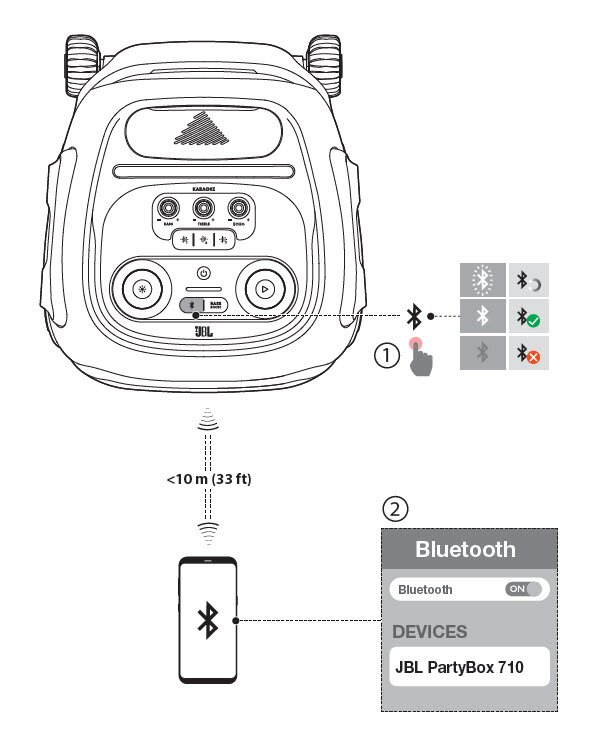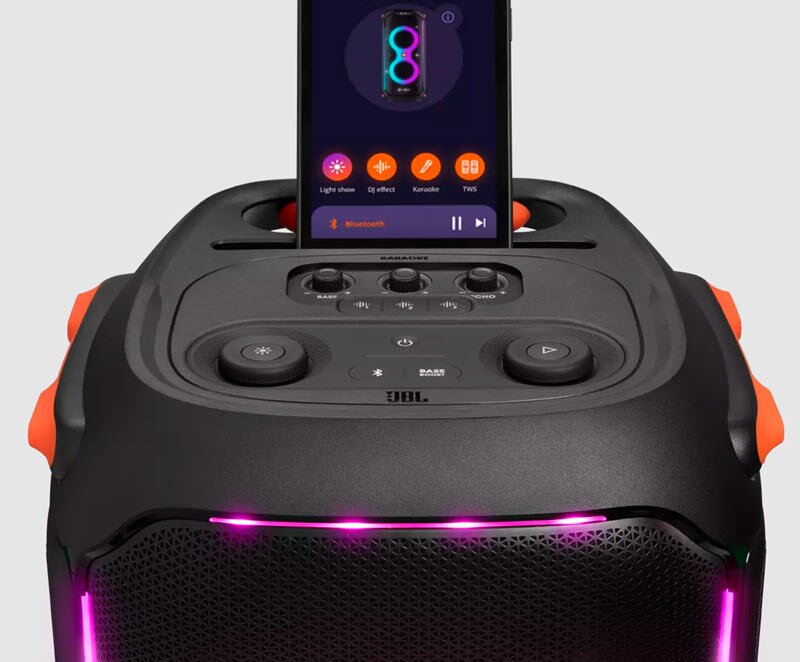 There are three buttons for the special sound effect, such as horn, clapping and scratch. Unlike the JBL Partybox 1000, there is no sound customization option on the panel, however, there is a DJ edit function in the JBL Partybox App, which can edit the DJ effects.
The three knobs for Bass, Treble and Echo for Karaoke can also be controlled via the Phone app.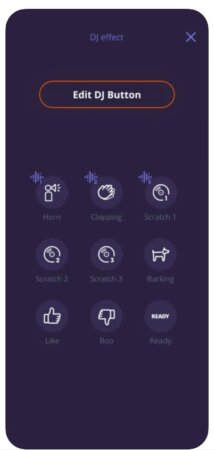 The volume controls on the top panel but would be nice if there is a dedicated remote control for these basic functions.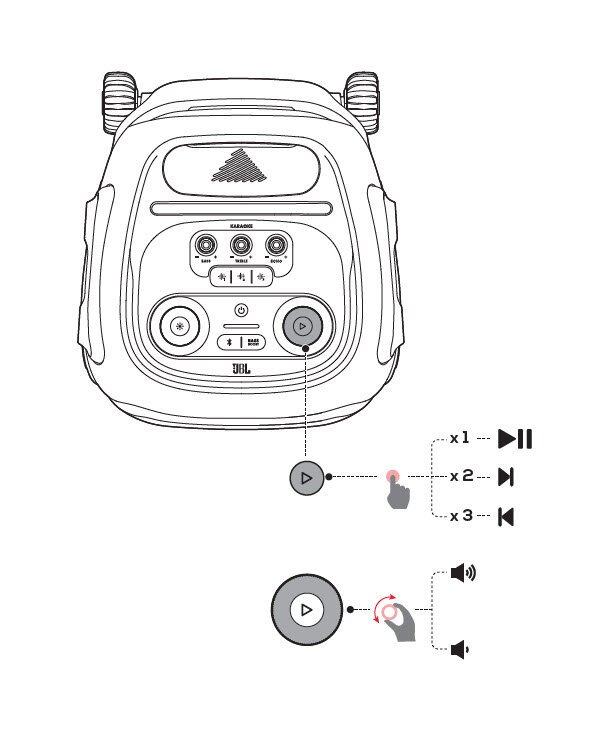 USB Connection[tie_index]USB Connection[/tie_index]
There is only one USB port in the front panel and it is a Type-A port. This can be used for charging (5V, 2.1A) or to play music from a USB thumb drive. There is no USB Type-C port which we opine is a major drawback for a new design as it would not be "future-proof". For such a large form factory, it can easily have two or more USB ports.
Lighting Effects[tie_index]Lighting Effects[/tie_index]
The lighting effects for the JBL 710 is also supported in the phone app, so there is no need to stand around the speaker whole day just to change the lighting effects.
Review Summary[tie_index]Review Summary[/tie_index]
An excellent choice for a portable and powerful speaker and is very easy to set up for parties, conferences or ad-hoc talking events. However, we prefer it to have a dedicated remote control for basic functions such as volume and play or stop. It is not always good to rely on the phone it has so much more useful function than to control a speaker.
What's in the box
1 x JBL Party Speaker 710
1 x Quick-Start Guide
1 x Warranty Card
1 x Safety Sheet
1 x right-angle AC Power cord
(AC Plug varies by Region)
Technical Specifications
General specification
Model No.: PartyBox 710
Transducers: 2 x 216mm (8″) woofer,
2 x 70mm (2.75″) tweeter
Output power: 800W RMS (IEC60268)
Power input: 100 – 240 VAC ~50/60Hz
Frequency response: 35Hz – 20kHz (-6dB)
Signal-to-noise ratio: >80dB
Cable type: Right-angle AC power cable
(type varies by regions)
Cable length: 2.0m/6.6ft
USB specification
USB charge out: 5V/2.1A (max)
USB format: FAT16, FAT32
Wireless specification
Bluetooth® version: 5.1
Bluetooth® profile: A2DP V1.3, AVRCP V1.6
Bluetooth® transmitter frequency range: 2400MHz – 2483.5MHz
Bluetooth® transmitter power: ≤ 11dBm (EIRP)
Bluetooth® transmitter modulation:
GFSK, π/4 DQPSK, 8DPSK
Audio specification
Supported formats: .mp3, .wma, .wav
Input Sensitivity
Aux-In: 250 mVrms (3.5mm connector)
Mic-In: 20 mVrms
Guitar-In: 100 mVrms
Bluetooth/USB Input: -12 dBFS
Product Dimensions (W x H x D):
399.0mm x 905.0mm x 436.0mm / 15.70″ x 35.60″ x 17.20″
Net Weight: 27.80kg/61.30 lbs
Packaging Dimensions (W x H x D):
1048.0mm x 505.0mm x 467.0mm/ 41.26″ x 19.88″ x 18.39″
Gross Weight: 31.00kg/68.34 lbs