Accessories
Mobile
Chargeasap Omega 200W GaN Charger Review
Design Review of Chargeasap Omega 200W GaN Charger
The Chargeasap Omega 200W GaN charger was touted as the World's Smallest 200W adapter at its campaign at Indiegogo last year. By Oct 10, 2020, it has achieved a total of US$3.39million from 33,910 backers at the 2 most popular crowdfunding website.
Comparing the number of backers for both sites, it seems that Indiegogo has about 50% more "crowd" than Kickstarter. This could be an important evidence or supporting data for those are researching for "the most popular crowdfunding platform".
We have explained about the meaning of GaN charger in another article.
The USB-C is still based on the previous PD power delivery standard at 100W maximum power. In May this year, USB.org announced that USB-C Revision 3.1 is increased from 100W to 240W, as explained briefly on our article regarding USB-C for IPhone. As the Omega 200W GaN charger was released last year, the USB-C connectors have a limit of 100W max output each.
We reviewed the design specs of the the Omega GaN charger and summarized the benefits as follows:
Size
The size is 88 x 55 x 42mm and weighs 220g. As there are currently no other 200W charger to compare with, it is the smallest 200W charger. In comparison, it is only slightly larger than the 100W charger from Hyperjuice with size 85 x 61 x 29mm and weigh 208g. In the photo below, its length and width is slightly smaller than a credit card size.
Power Output
Total max power output for all the ports combined is 200W. There are 2 USB-C and 2 USB-A ports, each with the following max power output:
C1: 1x USB-C @100W PD
C2: 1x USB-C @100W PD
A1: 1x USB-A @22.5W (QC3.0, VOOC+)
A2: 1x USB-A @22.5W (QC3.0, VOOC+)
By right, Quick Charge (QC) 3.0 has a max power of 36W (12V x 3A), but the USB-A on the Omega delivers 22.5W (5V x 4.5A) with SCP and VOOC. In the tech specs, we believe that they have also wrongly classified their USB-A (without SCP or VOOC) max output of 18W as QC3.0. Max power output of 18W (5V/3A, 9V/2A and 12V/1.5A) should be QC2.0, and not QC3.0.
Anyway, the error is not a major issue as the main benefit of the charger is the combined power output of 200W from all 4 ports. The following are the possible power distribution up to all 4 ports at the same time. The ability for the 200W charger to charge 2 x 100W PD notebook is impressive.
C1 or C2 = 100W
C1 + C2 = 100W + 100W
C1+ A1 + A2 = 100W + 12w + 12W
C1+ C2 + A1 = 100W + 65W + 22.5W
C1+ C2+  A2 = 100W + 65W + 22.5W
C1+ A1= 100W + 22.5W
C2+ A2 = 65W + 22.5W
A1 + A2 = 12W + 12W
A1 or A2 = 22.5W
4 ports used simultaneously: 100W+ 65W + 12W +12W
It was also mentioned that the device is programmed to prioritize PD for C1 port at 100W. It will charge the USB-C first and will not be interrupted by other devices plugging and unplugging.
Power Connection
The charger has a built-in, patented 180degree rotating US 2-Pin that can be plugged in 2 directions. In addition, a 1m extension cable and Travel adapters are also included.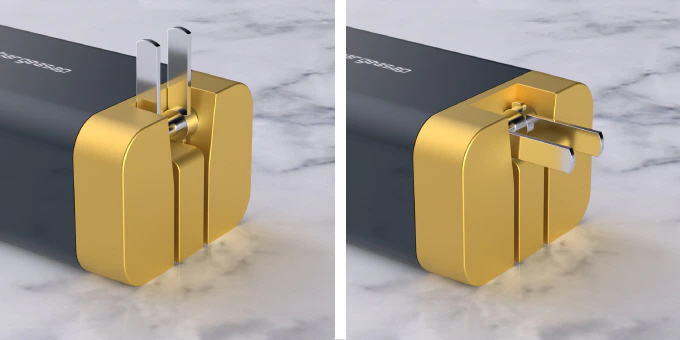 Price
Omega 200W GaN charger is priced at US$80, which we feel is good value and reasonable based on the benefits described so far. The device comes with a one year warranty but we hope that it can last as long as it looks. Warranty and replacement is always going to be a hassle even if the company honors it. Reliability is as important as the best specification in any devices, and only time and feedback from existing users will tell.
Conclusion
The USB-C PD has made the heavy power adapters redundant for <100W devices. As mentioned in our article regarding IPhone USB-C, there is a new USB-C PD Rev 3.1 standard specifying a higher power output of 240W. The developers should already be working on the next power chargers, and it will be interesting to see size of a 240W USB-C charger.
So what is next? Perhaps we may see a 480W (2 x 240W) USB-C PD charger in 2022, which could be challenging in terms of keeping the weight and size down. In any case, we are excited to see small and lightweight chargers that can replace those heavy power adapters (bricks) for the high-end gaming laptops.